Rancho La Puerta's 4,000 acres include 32 acres of gardens; hiking trails; an organic farm; several pools; extensive spa and fitness facilities; a salon; individual casitas for guests; a large dining hall, gift shop, and an intimate library — as well as numerous inviting lounges and conference rooms.
Locations
Most of our facilities and lodgings are sprinkled amidst world-class gardens. Probably the world's first "eco" resort, the Ranch practices sustainable organic gardening and resource conservation, and leads the way in environmental protection and education efforts in the region.
Within walking distance, our organic farm, Rancho Tres Estrellas, grows the healthy fare we dine on daily.
Spa Facilities and Health Centers
Spa luxury at its best. Be soothed and refreshed at our salon or one of several health centers.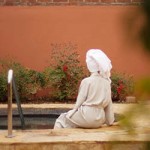 Women's Health Center
Step into an oasis of tranquility, complete with a relaxation lounge, sauna, steam room, showers, and private treatment rooms. The indoor area flows beautifully into the outdoors where you can sunbathe on a secluded patio, take a dip in the hot tub, and rest peacefully in nature. – 5,825 square feet.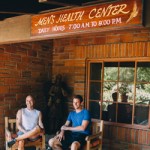 Men's Health Center
Rejuvenate and revitalize at the Men's Health Center, where you will indulge in spa therapies in private treatment rooms, unwind in the relaxation lounge, take a dip in the hot tub, rest in the sauna or steam room, and sunbathe on the private outdoor patio. – 5,390 square feet.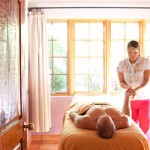 Villas Health and Skin Care Center
Experience complete relaxation and rejuvenation in this peaceful spa setting, where you will enjoy spa therapies in private treatment rooms. The center is complete with separate men's and women's changing and shower areas, a hot tub, sauna, steam room, relaxation lounge, and cold water immersion. – 13,372 square feet.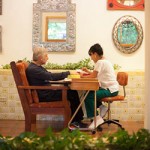 Beauty Salon
Enhance your natural beauty in the relaxed setting of our full-service salon, complete with hair services, manicures, and pedicures. Specialized beauty treatments for special events and bridal parties are available. – 2,590 square feet.
Gyms
Get fit in a lovely setting. Our spacious gym facilities make working out a pleasure.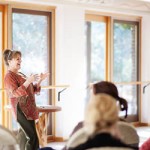 Arroyo Gym
Take an Abs and Back class, or attend an inspiring lecture at Arroyo Gym. Floor-to-ceiling windows provide lush garden views and plenty of sunlight in this high-ceilinged, carpeted gym. – 910 square feet.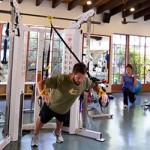 Azteca Gym
Work out in this state-of-the-art weight room, equipped with twenty-five HOIST strength-training stations and equipment, Precor Elipticals, eight Star Trac treadmills, eight Life Cycles, eight Stair Masters, and a complete set of free weights. – 3,920 square feet.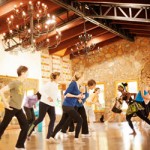 Kuchumaa Gym
Try out Cardio Drumming, African Dance, or Zumba in this beautiful dance studio. This spacious room has tons of natural light, a gleaming wooden dance floor, high ceilings, a chandelier, a sound system, a stone fireplace, a mirrored wall, and large windows. – 2,450 square feet.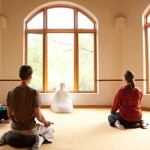 Milagro
Slip into a peaceful state in this tranquil meditation oasis. Equipped with meditation support cushions, yoga blankets, and a carpeted floor, this comfortable space provides an atmosphere that allows you to go deep within yourself. – 514 square feet.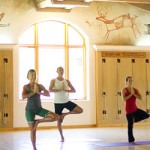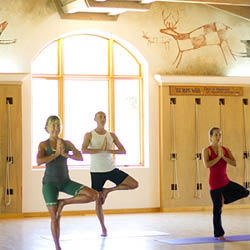 Montaña Gym
Nourish your mind, body, and spirit during yoga classes in Montana Gym, a spacious studio with shining wooden floors, vineyard views, and tons of natural light. Yoga mats, blocks, straps, and blankets are provided. – 2,806 square feet.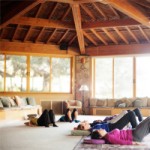 Oaktree Pavillion
You will feel at home in this warm and inviting room, with its pillows, blankets, wood-burning fireplace, baby grand piano, and floor-to-ceiling views of the mountain and vineyards. This spectacular round wooden building is the site of life-changing lectures, retreats, and musical performances.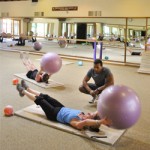 Olmeca Gym
Challenge yourself to an intense fitness class or sit back and learn at an inspirational health and wellness lecture in Olmeca Gym. This room is chock full of exercise equipment, including a ballet barre and a wall-to-wall mirror for the ideal workout session. – 2,112 square feet.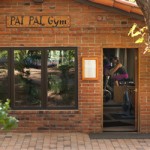 Pai Pai Gym
Workout in a Ranch Cycling, TRX or Kettlebell class at this fully equipped gym. Large windows provide tons of golden sunshine, which will keep you naturally energized during your workouts.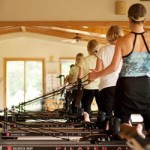 Pilates Studio
This state-of-the-art Pilates studio contains six Pilates Allegro® Reformers, two Studio Reformers®, one Trapeze table, one Wunda Chair, one work table, and a wide variety of supportive equipment. This room is designed to transform the body. – 1,540 square feet.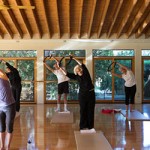 Pine Tree Gym
This giant workout room is centrally located and is equipped with exercise equipment, hardwood floors, and floor-to-ceiling mirrors. It's the ideal location for stretching classes, basic Pilates courses, and general Releasing and Mobilizing. – 2,444 square feet.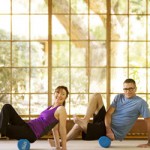 Tolteca Gym
Many activities take place in this carpeted gym that features an array of workout equipment and floor to ceiling mirrors. Challenge yourself to Kettlebells, TRX, or postural therapy, or attend an informative lecture. – 2,138 square feet.
In addition, there is a running track (1/6-mile); four lighted tennis courts; pickleball; sand volleyball and a basketball court; four swimming pools, five hot tubs, and three dozen hammocks (to entice you to rest and read, beneath ancient oak trees).
Guest Lounges and Community Spaces
Getting to know like-minded souls is one of the great joys of Rancho La Puerta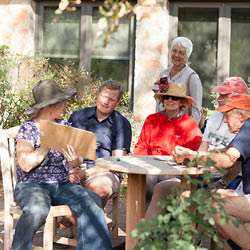 Art Studio
The Ranch's rich and diverse art classes will inspire everyone from beginners to professional artists. Express yourself through many creative media, including sculpting, jewelry making classes, and painting. The Art Studio is always open, so guests can practice their newfound skills at any time, day or night.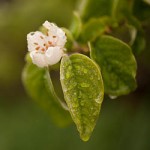 Ember Gallery
Showcasing the work of our resident artists, Jennifer Brandt and Jose Ignacio Castañeda, Ember Gallery is the Ranch's newest art space. Guests can view current works, including sculpture, paintings, jewelry and other wearable art; our artists are in residence and happy to talk about their work, demonstrate techniques and illuminate the creative process.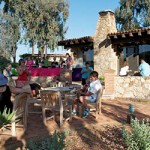 Bazar Del Sol
This is a Wi-fi hot spot is a hidden gem in the Villas Sol area. The Bazar Del Sol serves local wine from the Guadalupe Valley, has an espresso bar, and a boutique full of handmade artisanal creations from Mexico. Relax on an indoor sofa by the fireplace or on the outdoor patio to soak in the gorgeous mountain views.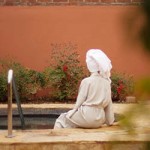 E-Center
This cozy center is open 24 hours and offers community computers, complimentary wireless Internet, and basic printing services.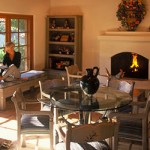 Flores Lounge
This cozy lounge and Wi-Fi hotspot is nestled in the heart of the Flores area. Relax on the sofas by the fireplace while enjoying coffee and tea, connect with new friends, and simply unwind!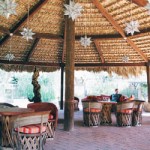 Gazebo
Socialize or simply relax under the shade of the palapa, a huge umbrella roof of woven palm fronds in the centrally located Gazebo. We invite you to indulge all your senses here, by enjoying the afternoon refreshments, noticing the aroma of the garden flowers, feeling the fresh breezes, and taking in the golden sunlit days and starry nights.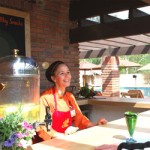 Juice Bar – Tierra Alegre
The Ranch's poolside juice bar, Tierra Alegre, which means "Joyful Earth." The environment is warm and welcoming, designed with maple wood, bricks and ceramic tile, and decorated with fresh flowers and fruits and vegetables. Tierra Alegre is a farm-to-juice bar, all of the ingredients used in the beverages come straight from Tres Estrellas, the organic farm on six acres that surround La Cocina Que Canta. The menu changes according to what is available in the garden.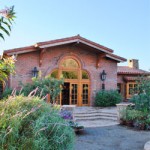 La Cocina Que Canta
"The Kitchen That Sings" is the culinary center of Rancho La Puerta. Situated beneath sacred Mount Kuchumaa, and nestled in the heart of Tres Estrellas 6-acre organic garden, guests experience unforgettable farm-to-table cooking classes with top chefs in this fully equipped teaching kitchen.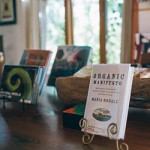 Library
Rancho La Puerta library houses several thousand fiction and non-fiction titles that will inspire and nourish your mind and spirit. This reading room also acts as a classroom and cinema for evening movies.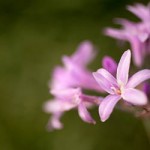 Los Olivos Conference Room
Hold a special gathering or corporate event at this private conference room, located above the Dining Hall. With advanced notice you may reserve the space for up to 30 people. Full table service is available at all dining events.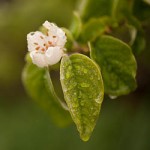 Maya Lounge
Unwind at this Wi-Fi Hotspot where you can view cable television or simply read a book.
Main Central Lounge
The Main Lounge is essentially the family room of The Ranch, where connections are made and guests relax. Gather here and enjoy a wood-burning fire, socialize with new friends, read newspapers, enjoy teas and smoothies, connect to the Internet, and play board games. Be sure to check the bulletin board for updates and sign-up for classes in this lounge. This is also meeting place for early morning guided hikes.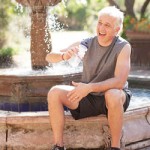 Men's Lounge
A Wi-Fi Hotspot. Relax in this comfortable lounge while enjoying coffee and fresh fruit. Daily newspapers, magazines, and cable television are also available.
.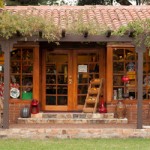 Mercado
This Ranch boutique will fulfill all of your travel needs. Choose from a wide selection of souvenirs ranging from Talavera pottery to books written by Ranch Presenters to Mexican vanilla. The shop also features athletic apparel, resort wear, and handmade jewelry.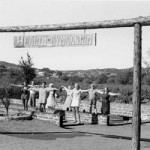 Musem
Travel back in time at the Rancho La Puerta founders home, where Edmond and Deborah Szekely resided from 1940-1950. Today, guests can learn about the history of The Ranch through museum displays placed decoratively inside and around this adobe structure.
24-hour free wi-fi is available in our Main Lounge, Maya Lounge, Flores Lounge, and the Bazar Del Sol
Setting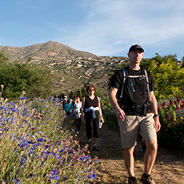 Rancho La Puerta, founded by Edmond and Deborah Szekely, is the original destination fitness resort and spa — family-founded, -owned and -operated. Today's guests enjoy the very best resort spa experience, shaped by expertise developed over 70 years.
Each week, some 150 guests share 3,000 acres of mountains and meadows beneath 3,885' Mount Kuchumaa. The peak straddles the U.S.-Mexico border, and Native Americans consider its slopes and summit a sacred place — so much so that it was the first geographic feature in the U.S. to be named a National Historic Site by the Department of Interior based on spiritual significance.
We provide space — that which is most lacking in today's life. Space to breathe freely. To relax. To renew, reflect and redirect one's longer-living life. All facilities and land are for the exclusive use of our guests who come for the week, arriving on a Saturday and departing on the next, ensuring the delights of a warm and welcoming community.
Landscape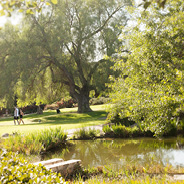 Rancho La Puerta's gardens honor the history and spirit of the land, native peoples, and vineyard planters.
The gardens also reflect the sacred mountain and its gifts of diverse plant and animal communities; respect the seasonal rhythms of sun and rain; and celebrate the delight and sensual experiences of living intimately with the natural world. Designed by Sarah Livia (Szekely) Brightwood, Chris Drayer and Enrique Ceballos, our gardens reflect not only the natural rhythms of our valley's native plants and land forms, but also a keen understanding of modern-day concerns about water use and sustainable methods of gardening.
Thanks to the careful use of water through drip systems and mulching, plus a biological marsh to recycle gray water for irrigation, plants from many parts of the world thrive. A generally free-draining, neutral soil derived from decomposed granite provides ideal growing conditions, especially when amended with organic compost made on-site. The Ranch has its own nursery and propagates a wide variety of native plants, as well as Mexican, Mediterranean, Australian, South African and cottage garden species.
Mature… but never complete
Nothing can replace time as a maker of gardens. Those at Rancho La Puerta's have had 60 years of care by the Szekelys, and approximately a century of farming use before that. Sweeping views and winding paths lead you past venerable wisteria and grape vines, and through layered canopies of mature palo verde, acacia, olive, plum, apricot and almond trees, as well as peppers, Chinese elms, honey locust, palms, sycamores, oaks and eucalyptus.
Color and fragrance greet you at every turn. Flowering plants include rosemary, lavender, sage, masses of billowy shrub roses, great drifts of calendulas, narcissus, ranunculus and alyssum. These are followed by hollyhocks and sunflowers, Lavatera (tree mallow), buddleia, matilija poppies and cactus blossoms. Jasmine and honeysuckle frame doorways. Hummingbirds swoop in to feast on the towering flowers of the century plant and the fleshy bells of Our Lord's Candle, the native yucca.
Art
The Szekely family collection of sculpture, paintings, mosaic, ceramics and more adorn the Ranch, indoors and out, for guests' edification and enjoyment. Colorful folk art from the major craft regions of Mexico can be seen in public areas as well as guest residences.
The Villas Health Center Art Gallery displays 30-plus works by contemporary Latin American artists, along with the famous J.P. Morgan Collection of primitive Brazilian art.
Well-known artists, craftsmen, writers, poets and photograpers often spend a week working and teaching at the Ranch. In addition, there is an on-site art studio which offers workshops in jewelry making, as well as a weekly fine art program that includes classes in sculpture, drawing and painting. Enjoy a glass of local Baja California wine with resident artist Jennifer Brandt and sculptor Jose Ignacio Castaneda at an exibition of their works in the gallery adjoining the art studio.
Brief bios of several of the artists are included here. To fully appreciate and discover their works, join a tour led by our artist-in-residence during your stay.
James Hubbell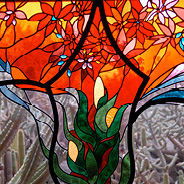 This San Diego artist is known for his innovative design work and sensitivity to the environment. He utilizes craft materials ranging from metals, clay, cements and wood to stained glass. His comprehensive design approach allows him to create memorable buildings, chapels, and parks — places for healing the soul and renewing the spirit. James Hubbell is the creator of the stained glass doors and window in the Administration Building, Kuchumaa Passage, and the mosaic center piece in the Dining Hall buffet area.
Jose Saboia
The artist was born in Almadina, a small town in the interior of Bahia, Brazil, in 1949. Jose set out in 1966 for Rio de Janeiro and began painting in 1968 in a studio with fellow artists Leonardo Cunha and Mary Lino. His themes involve rural, interior-like scenes. He plays with shapes, masses, volumes, motions and tempos.
Antonio Poteiro
Antonio Baptista de Souza came to Brazil as a boy from Santa Cristina, Portugal. He learned to be a potter with his father and became known as Poteiro –one who makes pots. He developed from a potter into a celebrated ceramicist and was later encouraged to paint by a local artist, Siron Franco. Poteiro is essentially a storyteller, weaving tales of men, animals and saints, which he collects from the streets, the Bible and his dreams.
Henry Vitor
Born in Guaxupe, Minas Gerais in 1939, Vitor settled in Sao Paulo, where he worked as a news agent and in advertising. In 1967, he launched himself as a painter of original art. He began exhibiting in 1971, and went on to develop a sound and well-appreciated artistic career. In his painting, Vitor recreates the magical world of his boyhood.
Silvia
Born in 1905 in Morro de Barro Hermelho in Rio de Janeiro, Silvia graduated as a teacher from Escola Normal do Distrito Federal, and as a lawyer from Faculdade de Direito do Rio de Janeiro. A writer, translator and professional journalist, she found literature the first vehicle for her intellectual expression. After 1943, she dedicated herself to painting –her real vocation which gained her lasting popularity.
Magdalena Zawadzka
As a young woman in Warsaw, Poland, she began her artistic career creating models for the puppet theatre in Gdansk. She moved on in the '60s to a research center for Polish "pop" art and was artistic director at Art Intrography Cooperative in Warsaw. Magdalena then migrated to Italy before moving to Brazil in 1975, settling in Sao Paulo. She incorporates in her pictures the exuberance of Brazilian flora and fauna –a world rich in colors and shapes.
Victor Hugo Castaneda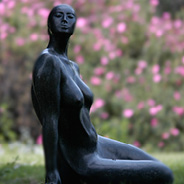 The artist was born in La Palma, Michoacan, Mexico, in 1947. In 1969 he began his career as an artist at the National School of Paint and Sculpture La Esmeralda at the National Institute of Fine Arts in Mexico City. During his artistic studies he collaborated with world-renowned artists. His inspirations include tropical women; natives of the indomitable sierras; and women from forgotten mesas, paths and springs, clouds that cut the solar planes, and from glimmerings and anxieties. Casteñeda pays homage to the significance of women, and to the beautiful as opposed to the ordinary.
Jose Ignacio Castaneda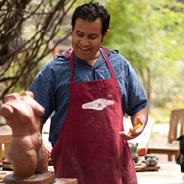 Born in Mexico City in 1968, Nacho Castaneda is part of the fifth generation of Castaneda sculptors. He began working in marble at the age of fourteen, and in metals at nineteen. He earned two FIne Art degrees from the National School of Fine Arts San Carlos, where he studied sculpture, painting and engraving. He has been exhibiting his work since 1989 and teaching since 1997. In 2008, he began teaching sculpture at Rancho La Puerta. Castaneda creates sculptures both in the family tradition of figurative females, and abstract works inspired by organic forms and his own ideas about genetic shifts and the evolution of life.
Jennifer Brandt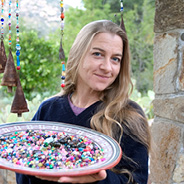 Born in New York, Brandt came west in her mid-twenties. Trained as a classical actor and vocalist, she was a performer for the first half of her life, and was co-founder and artistic director of a critically-acclaimed theatre company in Los Angeles. In 2001, when she realized she just wasn't enjoying it anymore, she quit the theatre and returned to her first love–painting, drawing and creating beautiful things with her hands. In 2004, she became resident artist at Rancho La Puerta, where she teaches painting, drawing and jewelry making, as well as creating and exhibiting her art. Brandt works in various media–pencil, ink, watercolor, acrylic, oil, collage, sculpture–and is passionate about history and art and the still point where all branches of knowledge converge.
Well-known artists, craftsmen, writers, poets, and photographers often spend a week working and teaching at the Ranch (see Events Calendar).