Day-to-day eco-friendly operations at Rancho La Puerta include a wide range of sustainability practices aimed at protecting the earth as well as the health of our guests and employees.
Landscaping
Rancho La Puerta and its surrounding landscape are located in a biodiversity hotspot, meaning it is a region that is both rich in biodiversity and is in significant danger of destruction.
The preciousness of this natural landscape is reflected in the beauty and quality of the gardening at Rancho La Puerta. Guests feel as though they are visiting a natural oasis where native live oaks line walking paths and wildflower fields blend into the surrounding chaparral. Mt. Kuchumaa is "the exalted high place" of the Kumeyaay tribe. In their eyes, Kuchumaa was the womb of the world, the place from which creation sprang. Only shamans were allowed on the summit.
Our efforts to protect this landscape include:
Our Garden Team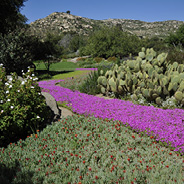 Rancho La Puerta employs a large staff of full time gardeners.
A large on-site nursery provides most of the plants used for landscaping. Professional botanists run the nursery and are skilled at specialized seed germination and crossbreeding techniques.
The majority of landscape maintenance is done using hand tools, with the exception of lawn mowers, tillers and some saws.
Gardens are fertilized using composted organic matter from garden trimmings and solid waste from the waste treatment facility and the composting toilets. Minimum commercial nitrogen fertilizers are used for lawn care.
Natural Pest Management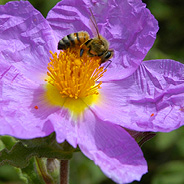 Flowering plants and fruit trees attract bats, birds and beneficial insects that provide natural pest management.
There is minimal to no use of chemicals to maintain Rancho La Puerta grounds; when absolutely necessary some low-impact products are used for pest control.
We use natural alternatives to standard insecticides. If we need to take on aphids or other "leaf munchers," we opt for insecticidal soap sprays that suffocate the bugs. "Safer" is a widely used brand available at most garden centers, or you can make your own recipe—just use soap, not detergent.
We use alternatives to herbicides by keeping undesirable plants out of areas using mulches or via hand weeding.
Vertebrate pests such as snakes and raccoons are controlled using live-traps. Once caught they are moved to another property outside of the Rancho La Puerta grounds.
Migrating Birds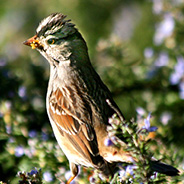 Migrating birds depend on the lush habitat at Rancho La Puerta as a stopover point where they can "refuel" during migration.
Plants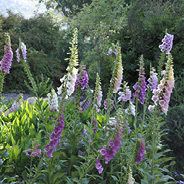 Our botanists developed a unique variety of foxglove that thrives in the soil and climate conditions found at the ranch. The plant was cultivated over several growing cycles and is now a hardy variety used in landscaping at the Ranch.
Palm tree fronds are not trimmed, instead they are left on the trees to provide habitat for bats and other vertebrates.
There are approximately 200 different plant species on the grounds. These include flowers, trees, cacti, shrubs, herbs, water plants (in fountains), and grasses.
We leave much of our landscape, even around our facilities, relatively undisturbed (no major raking or clean-up of stems, leaf litter, dried stalks, etc.) over the dormant seasons. This gives beneficial insects a safe place to overwinter, as well as a healthy quail population.
Two local invasive species, eucalyptus and Carrizo are harvested, removed and then used again to create garden structures, furniture and building interiors.
Creek Beds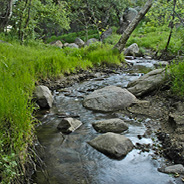 Our staff worked with an environmental consulting firm to design a vegetative stream embankment for the creek that flows through Tres Estrellas organic garden. By avoiding concrete channelization they preserved the natural ambiance of the creek bed and helped maintain a healthier riparian system.
Community
At the end of the Christmas season, Rancho La Puerta brings their wood chipper into the town of Tecate to chip the Christmas trees from which they make mulch for the grounds. Community members that bring their trees are offered either a bag of mulch made from trees or a certificate to participate in a landscaping tour and instruction on eco-friendly gardening and landscaping at Rancho La Puerta.
Buildings
Design, construction and maintenance at Rancho La Puerta take green principles into consideration whenever possible.
We're especially proud of our use of local materials and the talented craftsmen who understand the pleasure and honor of working in traditional ways. At the same time, the Ranch is an experimental "laboratory" of new ideas, driven by the curiosity and ingenuity of our president, Sarah Livia Brightwood, her staff, and our founder, Deborah Szekely.
Grounds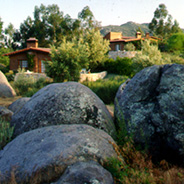 Buildings throughout our 70 years at this location have been sited with an eye to having minimum impact on the natural landscape. By fitting them into the natural contours of the land, grading is eliminated or minimized.
Patches of land that are disturbed during construction are stabilized using biodegradable fiber mats and native plants.
Trees kept near buildings offer shade and perches for the abundant bird life.
Large rocks and boulders are left intact and incorporated into outdoor sitting areas.
Construction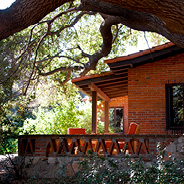 There are three straw bale houses at Rancho La Puerta and one at Tres Estrelles organic garden. Straw bale walls can be found throughout the site; they provide shade, soundproofing, and lend an artistic element to the grounds.
There are many traditional adobe buildings at Rancho La Puerta. Built with mud bricks, these structures are waterproofed using enjarrado, a natural matrix of soil and pulp from prickly pear cacti.
The use of natural ventilation for buildings is a way of life here. Ceiling fans help keep air circulating.
Cooking School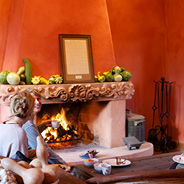 The relatively new La Cocina Que Canta cooking school structure utilizes a Venetian plaster technique, rather than paint, to create deep, rich colors in walls.
Tiles & Brick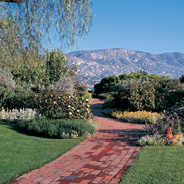 Rancho La Puerta's artisanal brick, tile and other ceramic features come almost exclusively from Tecate. By sourcing materials locally, Rancho La Puerta is helping to sustain a traditional craft and livelihood.
"Clean kiln" prototypes have been designed, funded, built and tested by Fundacion La Puerta in one of Tecate's brick-making communities, and work continues to lessen air-polluting smoke that can be a problem with traditional kiln designs. Two kilns are complete and are dramatically more efficient in terms of combustion and minimizing smoke.
Facilities Management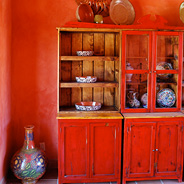 Ranch painters and furniture makers do not use paints, varnishes, sealants and carpeting that contain noxious chemicals called volatile organic compounds (VOCs). VOCs can contaminate the air in buildings and homes where they are used or installed.
The Ranch produces little to no hazardous waste but chooses to follow the precautionary principle for all chemical agents used at the Ranch; facilities management contracts with a hazardous waste processing facility that collects and properly disposes of all potentially hazardous material.
Facilities management maintains Material Data Sheet records for all chemical agents used at the Ranch. They will not purchase products from vendors that do not provide this information.
Rancho La Puerta uses the highest quality eco-friendly cleansers available, including: – Trader Joes Mandarin Orange Liquid Dish Soap – Soap Works Laundry Powder – Oxo Brite Non-chlorine Bleach – Vinegar – Alcohol
Mexico is developing a federal environmental and safety program called "Empressa Limpia." Rancho La Puerta is one of the few resorts in Mexico to participate in the voluntary program.
Training
Staff regularly attend conferences on sustainability – such as the Ecofarms Annual Conference and Bioneers Conference – to stay abreast of cutting edge ideas and green technology.
In 2001 Rancho La Puerta staff received the first Natural Step training provided to any operation in Mexico. Natural Step is a system for incorporating principles of sustainability throughout the design of a structure or process.
Farm & Food
The riches of the earth are celebrated at Rancho Tres Estrellas,
the organic farm that serves the Rancho La Puerta kitchen and
La Cocina Que Canta
cooking school (located on the farm property). Tres Estrellas is a vibrant tapestry of orchards, intensively planted raised beds, and herbs. The guests at Rancho La Puerta enjoy the flavors of freshly picked fruits and vegetables year 'round, enhanced by the creative magic of masterful chefs in the gourmet kitchens. Sarah Livia Brightwood, daughter of Rancho La Puerta founders Edmond and Deborah Szekely is the proprietor and visionary for Rancho Tres Estrellas. The success of Tres Estrellas can be largely attributed to Ms. Brightwood's intimate understanding of the soil, climate, and history of the land.
Rancho Tres Estrellas Organic Garden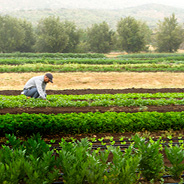 3.5 acres are actively cultivated to provide herbs, fruits and vegetables for Rancho La Puerta's dining hall.
The garden produces over 250 different varieties of fruits, vegetables and herbs.
An impressive composting process produces seven tons of organic fertilizer per year. The rich compost consists of kitchen scraps, garden waste, and goat and chicken manure.
Rancho Tres Estrellas receives only 9" of annual rainfall, so there is very limited production of water intensive crops like artichokes. Instead, most fruit and vegetable varieties are selected based on their ability to withstand dry conditions. Even the hardiest produce requires some water though, so the gardens are irrigated using pure clean water from the Mt. Kuchumaa aquifer.
The gardens are mostly tended by hand with very little dependence on mechanical tools. One small tractor hauls compost and a small tiller is used to prepare the soil for planting.
There are nine full time gardeners tending and harvesting at Tres Estrellas, including a Director of Operations and a Production Manager.
The garden's rich diversity of crops, including heirloom varieties, helps to reduce outbreaks of pests that thrive in monoculture conditions.
Flowering plants and fruit trees attract bats, birds and beneficial insects that provide natural pest management.
Rancho La Puerta Organic Kitchen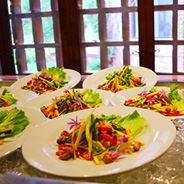 The Rancho La Puerta Dining Hall serves approximately 164,250 meals a year (3 meals/day to 150 guests served 365 days of the year).
Since most meals at Rancho La Puerta are vegetarian, 50-90 percent of recipe ingredients come from Tres Estrellas organic garden.
Other organic ingredients used to prepare guest meals (dairy, condiments, spices, fruits & vegetables not found at Tres Estrellas) come from a U.S. distributor that carries organic products.
All of our eggs come from Rancho La Puerta's organic farm at Tres Estrellas.
Fresh seafood served at evening meals is purchased directly from the local fish market in Ensenada, Mexico.
Rancho La Puerta's staff nutritionist, kitchen staff and garden staff work together to develop meal plans based around the produce grown at Tres Estrellas.
More Interesting Facts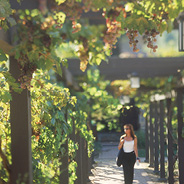 Tres Estrellas is developing an organic essential oil processing facility. Oils produced at the farm will be used for Rancho La Puerta's spa treatments.
Tres Estrellas' gardens supply organic produce to several cancer clinics in the region. Organic groceries are very difficult to come by in Mexico, so Tres Estrellas has an important role as a reliable source of chemical-free fruits and vegetables.
Rabbits are plentiful at Tres Estrellas, so some produce loss is tolerated. But when heavy rains tripled the population, "decoy" alfalfa was planted outside of the garden to lure rabbits to an area where natural predators (coyotes and bobcats) could help control their numbers.
Rancho La Puerta's gyms and a running track surround vineyards that produce delicious organic grapes. The vineyards date back to the turn of the century and have been cultivated with care since the days when Rancho La Puerta founder Edmund Szekely taught guests about the restorative and healthful properties of grapes.
Leftovers from the dining hall are donated to the local orphanage. Sisters from the charity pick up the food daily and bring it to those in need living in Tecate.
Water Conservation
Our valley receives only about 9 inches of rain in recent years, so even the hardiest plants in our gardens may require some regular watering, especially during the long spells between rains which may stretch into months.
Our water conservations practices include:
Drought Tolerant Plants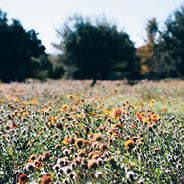 Drip irrigation systems direct calibrated amounts of water to individual plants.
"Mediterranean" and other eco-equivalent plants that thrive in drier climes—as well as plants native to our region—help minimize or eliminate the need for excessive watering.
Lawn areas, which we still consider essential to some outdoor guest activities, are kept to a minimum. Lawn care and our gardening without the aid of pesticides and herbicides is in line with our health practices so that pollutants are not washed away in the rain to find their way into streams.
Mulch is used extensively in the gardens to minimize evaporation and allow maximum use of natural rainfall and/or irrigation by plant root systems.
Waste Treatment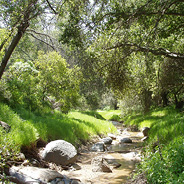 An on-site waste treatment facility captures gray water for the drip irrigation system.
A biological marsh captures the treated gray water, and the resulting clean water is returned to a creek that runs through Rancho La Puerta. A similar marsh now processes gray water at La Cocina Que Canta cooking school.
Guest room showers and toilets use "low flow" water conservation technology.
Several of our public facilities have composting toilets and/or waterless urinals. More are planned.
Building Materials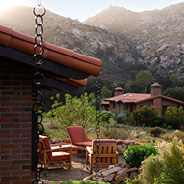 Chain downspouts and French drains provide an attractive and efficient method for helping rainwater soak into the ground without erosion.
Paving materials set in sand allow rainwater to replenish soil moisture without excess runoff.
Swimming Pools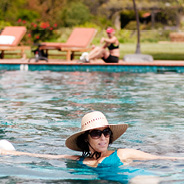 Water-oxygenating technology keeps swimming pools and hot tubs clean with only a minute application of chlorine. One large pool devoted to exercise uses a salt-based water quality system that is gentle to hair, skin and eyes.
Water Bottles
Guests are encouraged to bring their own refillable water bottles. Filtration systems eliminate the use of commercially bottled water at Rancho La Puerta.
Cleaning
Eco-friendly cleansers are used in the maintenance of our rooms, lessening the need for extensive rinsing of surfaces (such as countertops and floors) that have been cleaned with more typical, highly corrosive and/or toxic cleansers.
Laundry facilities for guest use feature water-efficient Energy Star certified washers.
Well Water
Well water tapped from our valley's extensive aquifer is available but is monitored carefully, especially during periods of drought, and always used in moderation.
Energy
The first Rancho La Puerta campers in June, 1940, joined Edmond and Deborah Szekely beneath the oaks of this same valley and discovered that they had little need for energy sources such as petroleum products and electricity. As Deborah recalls today,
"We were almost totally 'green' because we had no choice!"
Efficiency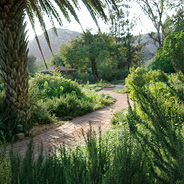 Guest cars are not allowed inside the property. We are a pedestrian-oriented, human-powered facility for the most part. Maid services use wheelbarrows, and room deliveries are made by foot or bicycle.
Laundry facilities use Energy-Star certified front load washers and driers. The efficient appliances significantly reduce energy and water use.
Energy-efficient compact fluorescent light bulbs are the primary source of artificial lighting in all Ranch facilities.
Tubular skylights direct high quality natural lighting down in guest rooms, gyms and spa facilities.
Rechargeable batteries are used throughout the Ranch, and there is a recycling program for staff to bring in expended batteries from home to be sent to a certified recycling facility.
Casitas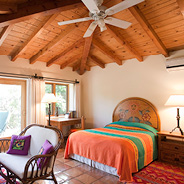 Thick-walled buildings of brick (and in some cases straw bale) help stabilize interior temperatures via insulation and mass.
Small, in-wall energy-efficient air conditioners are needed only about three months of the year, and usually only at night until the evening air cools the brick, clay and tile walls, floors and roofs of guest cottages. For the most part, the Ranch is a village of naturally ventilated facilities.
Rancho La Puerta has replaced propane-fueled heat with cleaner-burning natural gas.
The Organic Farm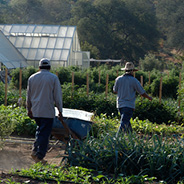 Organic ingredients for meals are either grown on our farm, or sourced locally, or purchased from purveyors in San Diego, less than 45 miles away. We make a concerted but still reasonable effort to limit the number of "miles traveled" by foods we serve. In the case of fresh fruit (especially bananas) and tomatoes, which our guests wish to eat year 'round, we must look to more distant suppliers in central or southern Mexico, for example.
At the farm, one small tractor hauls compost and a small tiller is used to prepare the soil for planting.
Landscape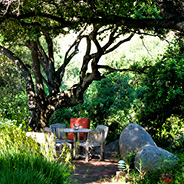 Shade structures such as vine-covered trellises and palapas (umbrella-like gazebos thatched with palm fronds) abound throughout our property, keeping guests comfortable naturally.
The majority of landscape maintenance is done using hand tools, with the exception of lawn mowers, tillers and some saws.
Recycling
The Ranch goes to great lengths to minimize use of disposable products
, and find ways to reuse everything possible. Among our steps:
On-Property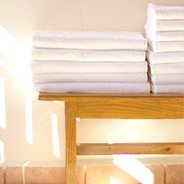 Spa locker rooms provide re-usable robes, slippers, and hair care tools.
Natural shampoo and conditioners are provided in refillable bottles.
Wastebaskets in the rooms and offices are lined with "Bio-Bags:" 100 percent compostable bags made of a cornstarch-derived material.
We buy in bulk whenever possible. Relatively few bottles, cans or other containers are used on property.
Landscape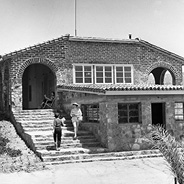 The beautiful granite rocks used for functional and artistic construction are all from on site and unearthed during construction or landscape projects.
Other natural "waste" materials like eucalyptus limbs and cattail reeds are also recycled into new construction such as shade structures.
Many buildings at Rancho La Puerta have been "repurposed" multiple times, and we seldom demolish a building (which we consider a waste of materials, energy and time!). The first structure on the property, an adobe one-room shed once lived in by the Professor and Deborah, is still here today (it's now a museum). Even it was repurposed: it originally was used to store hay before the Szekelys arrived in 1940.
Ranch staff members always search for ways to reuse out-dated or demolished materials and structures. For example, a tennis court that was removed to make way for a new building was broken up to create a service road for maintenance staff.
Garden trimmings are repurposed as mulch or compost.
Staff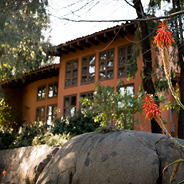 In 2001 Rancho La Puerta staff received the first Natural Step training provided to any operation in Mexico. Natural Step is a system for incorporating principles of sustainability throughout the design of a structure or process.
Office workers recycle paper, and when possible, print on both sides (or choose not to print at all).
Collateral communication materials (brochures etc.) are printed on recycled papers using soy-based inks.