Men's Program
The Ranch offers a comprehensive men's program with fitness classes, spa treatments for men, and a chance to kick your feet up and relax. End the day with a glass of locally sourced wine from the Baja region at our Bazaar Del Sol, or enjoy a cooking class at La Cocina Que Canta. Most importantly, a week at The Ranch is an opportunity to take a break from the busyness of everyday life and enjoy time for yourself.
The Ultimate Man'cation
Looking to get away from it all? We have a men's fitness program that will fit any man's needs, whether you're looking for a hardcore workout, or a "spa-cation," or both. The Ranch is especially great for outdoor fitness enthusiasts and those looking to train for ultramarathons. To quote an ultrarunner who recently visited our fitness resort, "The Ranch is a trail runner's dream."
For The Trail Running Enthusiast

Rancho La Puerta offers a variety of hikes and activities, ranging from beginner level to very challenging. Two of The Ranch's most challenging adventure programs include the Road Runner Trail Run, a 5-mile lowland trail which weaves through the meadows and is usual taken at a running pace, as well as the Seven-Mile Mountain Breakfast Hike. This strenuous 3 1/2 hour trek takes hikers 7 miles over steep, rugged mountain terrain, though allows for a scenic breakfast stop midway. In addition, there is a parkour fitness course and ropes course that men can use freely on their own time, once they have first experienced it with a group or a Ranch staff member.
Protein Options

In addition to the daily hand-picked organic fruits and vegetables offered from The Ranch's organic garden, the protein station offers scrambled and hard boiled eggs, protein rich oat bran, seven grain cereal, quinoa, and millet. Organic vitamin rich smoothies, fresh pressed juice shots, and recovery muscle milk drinks are also available to round out a healthful meal.
Men's Spa-cation

To wind down after a full day of hikes and fitness classes, men can choose from multiple men's focused spa treatments. Favorite men's treatments include the Sports Recovery Massage and the Men's Refresher Facial. The Sports Recovery Massage is deep tissue massages that incorporates techniques to improve stretching and flexibility, aid muscle tension, and prevent injuries. It's perfect after a full day of activities. The Men's Refresher Facial cleanses, hydrates and treats skin using Rancho La Puerta's organic skincare line, and concludes with a relaxing neck and shoulder massage.
Men's Fitness
Whether you'd like to train for a specific sport or activity, or simply get in shape, the Ranch has a program for you. Below we highlight our favorite activities and classes for men looking to stay
#RanchFit
.
Circuit Training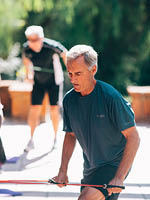 This fast-paced class begins with a 15-minute cardio segment that is followed by a vigorous balance/strength/coordination workout around a multi-station circuit. Circuit Training is a fun way to target strength building and muscular endurance without having to follow a routine or stay on a beat.
Core Challenge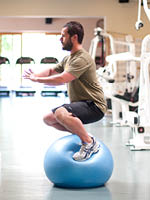 Our Core Challenge Class is a 30-minute core workout that targets, strengthens and defines the mid-section muscles; four abdominal muscle groups along with supporting back muscles.
The approach this class takes is integration, rather than isolation. Many men may experience lower back pain and often this can be attributed to weak core muscles.
Kettle Bells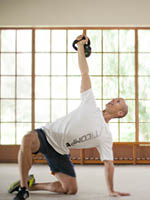 A unique training tool for building deep down strength. Think of a cannon ball with a handle. Kettle bells will challenge your arms, legs, and core to the max. (Level 2)
*Not suggested for those with shoulder, back or knee conditions.
Meditation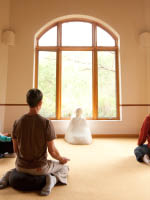 Mindfulness Meditation begins with the basic or nuts and bolts of how to begin a meditation practice:
How can I sit comfortably? What do I do with my hands? How do I breath? How long should I meditate?
After establishing these basic practices, we can then apply our meditation to different areas of life such as forgiveness, gratefulness, happiness, letting go or stress mastery.
Tennis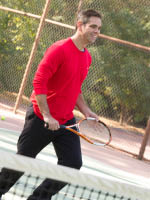 Open play is available throughout the day and evening on four courts, except when classes and clinics are in session. Improve your game or learn to play with our full-time tennis pro. Each clinic is designed to focus on a specific stroke or aspect of your game. Time is allotted for practice drills.
Private and semi-private lessons are available by appointment Sunday through Friday. See our Tennis Professional at the Ranch to sign up. (Additional fee)
Weight Training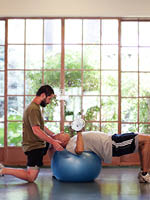 A solid strength training routine, in our fully equipped weight room will increase strength, bone density, boost metabolism as well as improving posture. Muscle tissue is active tissue so the benefits lasts beyond the time spent training.
Yoga: Level Two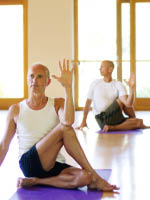 Our instructors bring a wide range of teaching styles including Iyengar, Ashtanga and Vinyasa and will include various combinations of sun salutations, inversions, back-bends, twists, pranayama, and yogic philosophy. This invigorating and creative practice enhances strength and improves flexibility.
Every week Rancho La Puerta offers a complete program of over 60 different classes and activities (four or more every hour) led by our expert staff. In addition, we invite—each week—some of our favorite "presenters" to join us and share their specialty. We consider them our guest stars, and you may want to time your stay to the presence of one of these presenters (or "themes" on occasion, such as "yoga week") that appeals to you greatly—or pick ANY week that works for you: they are all equally rewarding in their variety, depth, and effectiveness.
If you have any questions about our Men's Program, please email our Fitness Department.