We live in a fast-paced, chaotic environment where it's rare that we're not plugged in to some form of media, whether it's our phones, televisions or computers. At Rancho La Puerta, you don't need an "app" to unplug from life's clutter – our Mindfulness Reflective classes will help you tune in to your own spirit and navigate your inner terrain without the constant bombardment of outside distractions. Take an Inner Journey class, rebuild from within using crystal bowls at Sound Healing, take time to walk our Labyrinth or try a Silent Dinner and listen to the truths inside of you.
Chanting/Crystal Bowls
Float in a bath of sound flowing from crystal bowls that are tuned to the physical and consciousness centers of the body. Crystal bowls emit pure sound waves that resonate throughout the body's tissues and organs. These sounds and vibrations affect brain wave activity, causing the release of powerful neurohormones that suppress pain, heighten the immune system and produce deep relaxation. Let go of your fight-or-flight response and drift into the space between dreaming and wakefulness that opens the self to insight.
Chant

Rhythm, Repetition, Community…that is chant and it is an ancient practice. This mindful breathing session uses your body as the sound healing instrument. Mostly Sanskrit, with some English chants shared, sound by loving sound we will also enjoy some quiet times in between chants. This 45 minute class is an accessible entrance into meditation moments and a cleansed inner body through sound vibration.
Chant: Sacred Sound Practice

Create harmony and communion with a meditation of sacred song and chants from various traditions.
Sound Healing

Sound Healing: Crystal Bowls emit pure sound waves that resonate throughout the body's tissues and organs. These sounds and vibrations affect brain wave activity causing the release of powerful neurohormones that suppress pain, heighten the immune system, and produce deep relaxation.
Inner Journey
Voyage beyond the internal jungles of time and space and learn how to bring peacefulness, enhanced consciousness and mindfulness to your daily life through meditation at an Inward Journey class. This is a gentle, comfortable practice – you don't have to twist into a pretzel to look inward. Then let the thoughts that bombard you like so many distractions flicker past like images on a movie screen, and learn to live moment by moment, breath by breath. You will also learn take-home tools to increase your stress-hardiness.
Inner Journey: Guided Meditation

Inner Journey teaches practices for calming the mind, learning breath by breath to abide in the present moment. Classes include a resting or supine guided visualization focused on breath and body.
Intention Voicing Meditation Walk

Spend 60 minutes strolling the lower mountain (75% of Dove Trail) with a few stops to sit, stand and chant in meditation focused on your intentions for yourself. Quiet, Peaceful, Loving steps, sits, breaths that nourish healthy inner dialog and potentially awaken new connections to yourself and your environment. Participants are invited to stay at Kuchumaa Passage and continue their meditation after the walk if they choose.
Mindfulness Meditation

Mindfulness Meditation begins with the basic or nuts and bolts of how to begin a meditation practice:
How can I sit comfortably? What do I do with my hands? How do I breath? How long should I meditate?
After establishing these basic practices, we can then apply our meditation to different areas of life such as forgiveness, gratefulness, happiness, letting go or stress mastery.
Reflexology on 'The Spiral'

A walk over smooth riverstones set into spiraling stone pathways located near the entrance to Women's Health Center. (Self-guided)
Silent Dinner

A meditative meal enjoyed without conversation, accompanied by inspirational music.
Tai Chi

This gentle, ancient Chinese martial art is an easy-to-learn moving meditation that improves balance and body awareness.
Labyrinth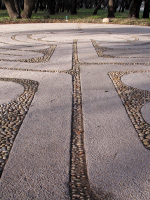 A powerful walking ritual to open your consciousness set deep in an ancient oak grove on our full-scale replica of the classic labyrinth found at Chartres Cathedral. Rancho La Puerta's labyrinth is a non-denominational experience for the mind, body and spirit.
About: Evolved from the spiral forms of nature, labyrinths have been known to the human race for more than four thousand years. The Cretan labyrinth, Hopi medicine wheel, Jewish Kabbala (Tree of Life) and Tibetan sand paintings share the labyrinth motif and theme of transformation, either through meditation or a participant's walk along the path.
Not a maze—which confuses the participant with game-like devices such as cul-de-sacs, false leads and high walls—the labyrinth seeks to quiet the mind and lead to peace and inner knowing (inner wisdom?).
The path is a classical eleven-circuit design, a metaphor for our journey through life. One path takes you to the center and back again, leading you through many turns. The six-petaled center is known as the rosette. In some traditions, each petal of the central rosette symbolizes one of the six stages of planetary evolution: mineral, vegetable, animal, human, angelic and divine. Ten labyrs—the hourglass—are symbols of women's creativity and power. Each two-thirds circle along the outer edge is a lunation that tracks moon cycles and may have been a way of determining religious feasts in the Middle Ages. Your guide to the experience will further explain many of these references.
May you find all you seek on your journey.
Reflexology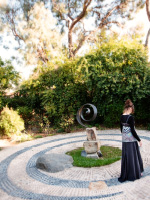 As you step slowly, your feet settle into the smooth stones. Subconsciously, you seek the path of least resistance and maximum pleasure. With each step, muscle tension melts, balance returns and your body is more in tune with the earth.
Our reflexology pathway brings the soles–and soul–into energetic focus as you walk over patterns of stones to exert varying degrees of pressure on the feet. The spiral pattern represents the cycles of life and the sequential order of things…a soothing simplicity, an intriguing complexity.
What is reflexology?: Practitioners believe that certain areas on the foot correspond to internal areas of the body, and when pressure is applied to those areas, reflexology can assist the self-healing process. Reflexology does not try to diagnose or cure medical conditions, but rather correct energy imbalances. The tradition of "stone stepping" has undergone controlled testing by the Oregon Research Institute, where scientists found that older adult participants "experienced significant improvements in mental and physical well-being."