Set in the heart of our six-acre farm, La Cocina Que Canta ("The Kitchen That Sings!") celebrates the magical results of cooking with just-picked organic ingredients. The colors, aromas, and tastes that emanate from La Cocina are nothing short of amazing. Your sensory experience combines with the camaraderie and energy that occurs when you cook side-by-side with great teaching chefs. Working together, each class creates and dines on a delightful meal—an unforgettable culinary memory.
Cooking Classes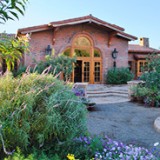 During classes the kitchen fills with conversation, questions, laughter…and the savory scents of rosemary, roasting peppers, fennel, barbecued shrimp, and other "Mexican-Mediterranean" essential ingredients that characterize a fusion of both Rancho La Puerta's healthy, light-eating style and that of the teaching chef and his or her favorite techniques and recipes.
La Cocina regularly hosts internationally renowned guest chefs and cookbook authors such as Deborah Madison (best-selling author and founding chef of Greens in San Francisco), John Ash (master teacher and best-selling author of "From the Earth to the Table"), Patricia Wells (famed author and cooking teacher in Provence and Paris), Anne Willan (cookbook author and founder of École de Cuisine La Varenne in Paris in 1975), and many many more.
Sign up for hands-on classes
Hands-on Lunch Cooking Class $90 + tax
Hands-on Dinner Cooking Class $95 + tax
A message from Executive Chef Denise Roa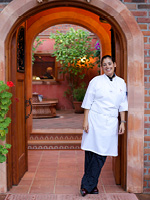 Welcome to our cooking school La Cocina Que Canta and Tres Estrellas, our organic farm! I'm honored and grateful to have this opportunity to cook and teach in one of the world's most beautiful cooking schools. Better yet, a world-class organic farm greets us each morning with new wonders, all only steps from our door.
Throughout my career I have been a teacher of culinary students in professional academies, and worked in many positions in San Diego's finest restaurants. I've also owned my own restaurant. But nothing compares to this! I believe that many people have forgotten or never experienced what food can taste like in-season and at its peak of freshness. Great cooking does not have to be complicated. Ingredients—if they are the best—do not need to be enhanced by cream, butter or salt.
Most important, I believe that the food we eat dictates the way we feel. Organic, healthful meals enhance our energy. Great flavors allow us to enjoy food more… while actually eating less. And great teachers inspire us to explore a wide and wonderful world of healthful eating.
Join me—as well as the guest chefs we have invited for your week—to experience how to cook great meals that are simple, nutritious, world-class in flavor and beauty, and equally important…fun!
Special Events
Special Events & Private Parties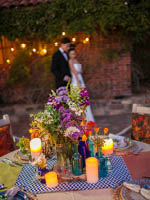 La Cocina's buildings and grounds—and its stellar staff, teaching programs, and catering team—are available for private parties and dinners, group retreats, "team building," and other special events.
Visit our Wedding and Events page for more details
Our Cookbook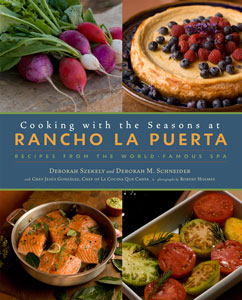 Cooking with the Seasons
was a Finalist/Nominee for a James Beard Award—the "Oscars" of the food world
Great cooking, using fresh, local, seasonal ingredients – is at the heart of the experience offered by Rancho La Puerta. Cooking with the Seasons, a beautiful, hardbound cookbook published by Stewart, Taboori & Chang, with 120 luscious seasonal recipes, transports that regenerative experience to your own home kitchen. It will change the way you think about food and cooking—and, quite possibly, help you live the longer, healthier life.
To order a copy direct from Rancho La Puerta, signed by Deborah Szekely and her co-author, please call our Reservations Department at 800-443-7565. Orders of five or more books can be signed AND personalized with your message—a great gift idea. $40 plus shipping and tax, if applicable.