A Spanish Colonial dining room, complete with mezzanine and a grand spiral staircase winding around a central fireplace, epitomizes the convivial atmosphere so important to The Ranch experience. Banners of traditional papel picados (paper cut into elaborate designs), festoon the beams. Doors on both sides lead to outdoor dining patios, where splashing fountains and shady olive trees welcome diners year-round (yes, the weather is that wonderful!).
Meal times at the Ranch are about creating camaraderie and community. Our guests frequently say that one of the best things about the Ranch is that they meet wonderful people. For these reasons we provide three meals at which guests can come together and enjoy each other's company. Breakfast and lunch are informal while dinner is a sit-down affair.
Dining options: Community tables, two seaters, a private table, a solo dinner or a silent table. Should a guest wish to pick up their dinner to go, they need only check in with the maître'd.
---
Weekly nutrition lectures given by experts in the field on varying topics as they relate to food, health and trends. Private consultations available.
Sample Menus
Weekly menus at Rancho La Puerta may include some of the following:
Breakfast
Saturday from 7 to 9 a.m.
Sunday – Friday from 7:30 to 9 a.m.
Served Buffet Style
Eggs
Ranch Beans
Tortillas
Salsa
Fresh Seasonal Fruit
Vegetables
Bananas
Dried Fruit and Nuts
Lunch
Saturday from 11:30 a.m. to 3 p.m.
Sunday – Friday from Noon to 1:30p.m.
Served Buffet Style
Salad, varied daily
Assorted Vegetable Buffet
Nuts
Fresh Fruit
Tuna
Salsa Bar
Navy Bean Soup
Lentil Soup
Black Bean Soup
Barley Vegetable Soup
Broccoli Soup
Garbanzo Bean Soup
Yellow Split Pea Soup
Cottage Cheese
Ranch Style Pizza
Spinach Quesadilla
Rancho Tostada
Tempeh Sandwich
Veggie Burger
Dinner
Nightly from 5:30 p.m. to 7:30 p.m.
Served At Table
Salad, varied nightly
Mexican Vegetable Soup
Wild Mushroom Soup
Carrot Soup
Miso Soup
Minestrone Soup
Mexican Corn Chowder
Tomato Soup
Asian Stir Fry
Ranch Tamales
Chile Rellenos
Fresh Halibut Tecate Style
Homemade Pasta with Porcini Mushrooms
Zucchini Noodle Lasagna
Spring Roll with Shrimp
Eggplant Parmesan
Steamed, Sauteed, or Stir-fried Vegetables
Options: Stir-fried Vegetables with Tofu and Brown Rice and Steamed Vegetables
Desserts
Fresh Fruit Sorbet
Blueberry or Peach Cheesecake
Postre del Sol
Cinnamon Flan
Baked Apples
Rice Pudding
Poached Pear with Raspberries
Tierra Alegre Organic Juice Bar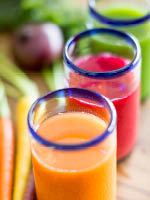 Refresh with delicious, seasonal cold-pressed juices* and smoothies* infused with superfoods. Each nourishing drink is packed with vitamins, minerals and phytonutrients – the essentials your body needs to maintain optimal health.
All of the produce used at Tierra Alegre, or "Joyful Earth," is lovingly picked each day from Tres Estrellas, the organic six-acre farm that surrounds La Cocina Que Canta.
LOCATED AT THE ACTIVITY POOL: OPEN DAILY
*Additional charges will be billed to your room.
Midday Snacks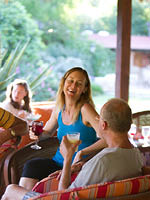 The following items are available every day in the Main Lounge at the times shown:
Fresh Fruit: 10:30 a.m.
Smoothies: 2:45 p.m.
Sliced Veggies: 4:00 p.m.
Message From Our Chef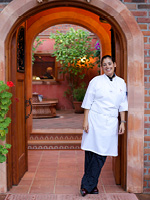 "Many people have forgotten or never experienced what food can taste like in-season and at its peak of freshness. Great cooking does not have to be complicated. Ingredients—if they are the best—do not need to be enhanced by cream, butter or salt.
Most important, we believe that the food we eat dictates the way we feel. Organic, healthful meals enhance our energy. Great flavors allow us to enjoy food more… while actually eating less. Food is incredibly nurturing and fulfilling. Food is integral to who we are. It's just as important as breathing, family, work and exercise. The better we eat, the better we feel, and the better we cook. The more we respect what we eat, the more we respect ourselves. Eating nutritious food enhances the very quality of life."
—Denise Roa, Executive Chef
Food Sources
Tres Estrellas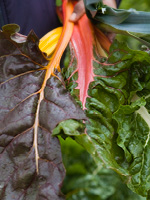 Guests at Rancho La Puerta enjoy the flavors of freshly picked fruits and vegetables year-round. Visits to the organic farm, which is located about 2 miles up the valley from most of our facilities and accommodations, take place almost daily: a favorite is an early morning guided hike that combines a 2-mile walk through rolling meadows and chaparral with a welcoming breakfast, a tour of the gardens, and an introduction to the principles of organic farming led by our charismatic head gardener, Salvador Tinajero. Our ecological specialist, Enrique Ceballos, also assists Sarah Livia in the garden's vision.
Wine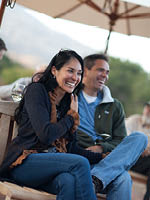 Not far from Rancho La Puerta, Valle de Guadalupe is noted for its varied terrain, granitic soils and an ideal climate for viticulture—low nighttime temperatures and hot days. In the last 20 years alone over 50 new wineries have sprung up here, and international awards and attention have put the valley on the map as the "next Napa." The northernmost are near Rancho La Puerta, while the southernmost—Santo Tomas, San Vicente and Ojos Negros—are closer to Ensenada.
Wine is available for purchase in the Bazar Del Sol.
Seafood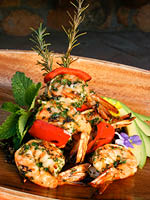 Seafood is a source of great pride. It comes from Ensenada's Mercado Negro, an open-air covered arcade on the waterfront where fishermen display their catch in a bustling environment reminiscent of the great fish markets of the Mediterranean. (Although the name literally translates as "black market" it is most assuredly not that!) Our buyers hand-select fish several times a week, pack it in ice, and rush it home to our chefs. We buy either the whole fish, or in the case of something huge like swordfish, large portions. A whole fish is fresher by nature (there's less handling) than one already filleted.