To make the most out of your week at Rancho La Puerta, we encourage you to start by programming cleansing treatments at the beginning of the week, continue mid-week with treatments that relax and restore, and opt for ones that energize during the last day or two before leaving the Ranch.
Below is a list of our men's favorite spa treatments, but don't feel like you have to only book from this list, men are welcome to enjoy all spa treatments offered at The Ranch.
Massage
Regular massage increases circulation, eases tension, tones muscles, and contributes to total well being. Recommended by Hippocrates as early as 400 bc, massage has long been recognized as an important adjunct to healing.
Ranch Classic Massage

Our signature Classic Massage provides the many substantiated health benefits of massage, and it especially aims at releasing stress and tension in the body and mind. Depending on your preference, the rhythm of your massage can be slow and gentle, vigorous and firm, or deep pressure. Select from our aromatic wellness oils to enhance your treatment experience.
Relaxing
50 minutes – $90
90 minutes – $ 150
Mountain Sage Hot Stone Massage

Our therapist's nurturing touch combined with warmed, smooth river stones renowned for their healing capabilities, effectively release tense muscles, stressed e
motions and helps to calm an active mind. Our mountain sage oil is formulated to gently detoxify, calm and ground your energy.
Relaxing
50 minutes – $90
90 minutes – $155
Heat from the stones may cause skin redness lasting up to 24 hours.

Head-to-Toe Relaxation Massage

A scented massage oil warmed from its candle, is used to gently massage your body with long nourishing strokes from scalp to toes. Unwind, de-stress, and feel warm and revitalized by improved blood circulation.
Relaxing
90 min – $160
Please arrive with clean and dry hair.

Sports Recovery Massage

The perfect treatment after a day of activities! This deep massage incorporates a variety of massage techniques with some assisted stretching to release muscle tension, improve flexibility, and range of motion. It also aids in the prevention of injuries.
Restoring & Energizing
50 minutes – $90
Back, Neck & Shoulder Massage

This focused massage session targets accumulated stress and tension in the back, neck and shoulders; those places where we tend to hold it most. You will feel that weight lifted off your shoulders and relief in the back and neck, resulting in more ease in aligning your posture.
Relaxing & Restoring
50 minutes – $90
Body
Body treatments, now popular at spas worldwide, have been a fixture at Rancho La Puerta since 1940. Ranch co-founder Professor Edmond Szekely sought a balm for the aches and other muscle discomforts that afflicted some guests who were unaccustomed to dawn-to-dusk exercise. He adapted and modified the 19th-century naturopathic techniques of Father Sebastian Kniepp (1821-1897). Today our treatments are as effective and soothing as ever, promoting circulation and relaxing tense and sore muscles.
Energy Balance

Energy healing is a profound and fundamental part of holistic therapy. Your therapist balances chakras (centers of vital energy) and returns them to their natural state of vibration and frequency using color, light, sound, aroma, energy work, and sacred geometry.
Restoring & Energizing
90 minutes – $ 150
Rosemary Loofa Salt Glow

Crushed rosemary from our garden is blended with organic oil, salt, honey, and oatmeal, for an invigorating massage over the body with a natural loofah to thoroughly cleanse the pores. Dead layers of skin cells disappear and circulation is stimulated leaving the skin renewed, soft and radiant.
Cleansing, Restoring & Energizing
50 minutes – $ 90
Avoid sun exposure before and after treatment
5 Elements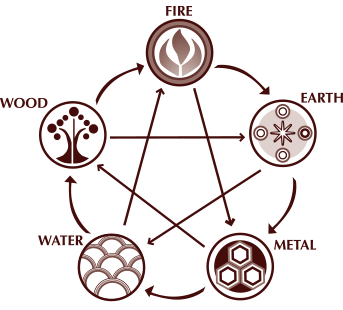 Based on ancient healing practices, balancing the five elements balance and restore the
Qi
(pronounced "chi"), the vital energy of body and mind in areas that have become unbalanced by mental, emotional and physical disturbances.
Each one of the five elements has a specific purpose, protocol and massage oil blend. All treatments start with a dry brushing to prepare skin for the aromatherapy blends that help connect and balance the body and mind.
Benefits: Each one of the oil blends used in the five elements are designed to balance the emotional and mental disorder of the element; the treatment or body work is intended to restore the physical disturbance.
To determine the treatment that best meets your needs, ask yourself, "How do I feel?"
For more information download our 5 Elements brochure.
Avoid sun exposure after treatment any Five Element treatment.

METAL – ORDER AND PRECISION
When the metal element is out of balance it impairs the intake and outflow of the most powerful life force, which is air, creating blockages, grief and sadness. In balance, this element generates optimism and orderliness.
A healthier Metal element results in a greater sense of self-awareness and life's meaning.
What to expect from the treatment: Firm pressure with pulling and twisting maneuvers restores harmony in the mind and body.
Relaxing & Energizing
50 minutes – $100
90 minutes – $160
Facials
Facials prepare the skin to absorb beneficial therapies such as anti-aging serums, and protect the skin against infection via improved cell health. Fine lines diminish as the skin's outer layers exfoliate, revealing smoother skin underneath. Our Amala facials are the perfect introduction to what we hope will become a life-long practice!
Men's Refresher Facial

Perfect for a man's skin, this facial provides the full spectrum of skin benefits using our organic skincare line to refresh and revitalize. Depending on your needs, your aesthetician will determine the appropriate combination of treatments for your skin: cleansing, double hydrating, mask, and some extraction may be included. The facial concludes with a relaxing scalp and neck massage.
Cleansing & Restoring
50 minutes – $95
80 minutes – $150
Recommended for:
All skin types (extractions if needed). Please shave at least 3 hrs before facial.
80-minute session adds a special eye area treatment as well as extractions.
Wraps
Ranch Remedy Wrap with Massage

This longtime favorite combines the RLP Herbal Wrap with a massage. The hot, steamy linens stimulate detoxification and then relax and soften muscle tension, making the massage techniques more effective and therapeutically beneficial. Choose from our range of aromatic wellness blends to enhance the experience.
Cleansing, Restoring, Energizing & Relaxing
50 minutes – $90
90 minutes – $145
Head, Hands & Feet
Happy Hands & Feet

You'll derive total relaxation from our combination of foot reflexology and hand massage. Communication with the whole body through the hands and feet releases energy blockages in the meridians and trigger points. A warm finishing dip of essential oils leaves your hands and feet satiny smooth and soft.
Cleansing, Restoring, Energizing & Relaxing
50 minutes – $90
Not recommended if you are pregnant.
Scalp Treatment

This nourishing treatment relieves dry scalp and helps damaged hair recover its suppleness. Vigorous brushing supplies oxygen and nutrients to the hair follicles. A neck and shoulder massage follows to relax tense muscles.
Restoring
50 minutes-$90
Please arrive with clean and dry hair. Leave oils in your hair for at least two hours after the treatment and avoid sun exposure while the oils are in your hair.
Nails
The salon, a bright and airy space enlivened with folk art, is a great place to relax, alone or with friends.
Manicures and Pedicures
Blissful Journey Pedicure

This is a dream come true for your feet. Our pedicure includes a spiritual walk on our outdoor reflexology path, followed by a foot wash ritual, a complete pedicure, relaxation reflexology, and a foot massage that slips you into a blissful state.
Cleansing, Restoring, Energizing & Relaxing
90 minutes – $95
Ranch Custom Manicure

This customized manicure beautifies your hands while fragrant essential oils indulge your senses. Nails are trimmed and shaped. Cuticles are pushed back and oiled. A wonderfully gentle exfoliation scrub prepares your hands to be massaged and moisturized with warm oils. Your treatment is completed with a soothing hand and arm massage, and buffing—the final touch to beautiful hands.
Cleansing, Restoring, Energizing & Relaxing
50 minutes –$35