Escape into a world where you are encompassed by serenity, embraced by wellness, and surrounded by harmony. Our signature Rancho La Puerta Spa Packages will envelop you in a sublime state of bliss, where you will renew, refresh, and relax.
Natural Healing Process Package
Cleanse. Relax. Energize. Restore.
You will love this week-long journey toward total body balance. Much as the cycles of nature govern how the earth renews itself, the human body also needs to cleanse and relax before renewing and reactivating once again. This package combines daily healing treatments and Ranch juices in a specific order that promotes rejuvenation, harmony, and serenity. See the spa brochure for descriptions of each treatment.
Cleanse
Sunday:
90-minute Ranch Remedy Wrap
Monday:
80-minute Custom Facial
Cleansing Juice from Tierra Alegre Organic Juice Bar
Relax
Tuesday:
90-minute Head to Toe Relaxation Massage
100-minute Ranch Custom Manicure and Pedicure
Relaxing Juice from Tierra Alegre Organic Juice Bar
Restore
Wednesday:
90-minute Detox Massage
50-minute Happy Hands and Feet
Restoring Juice from Tierra Alegre Organic Juice Bar
Energize
Thursday:
90-minute Energy Balance Therapy
Energizing Juice from Tierra Alegre Organic Juice Bar
Friday:
50-minute Rosemary Loofah Salt Glow
Energizing Juice from Tierra Alegre Organic Juice Bar
$939.00 per person +tax
(Must be reserved at least one week prior to your arrival.)
*Offer is subject to availability. Days and treatment options cannot be altered. Package may not be combined with any other promotion. Mexican sales tax will be added to your final bill.
Rancho La Puerta Spa Package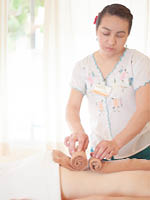 Customize your week of bliss.
Indulge in eight luxurious spa treatments of your choice, from results driven facials and relaxing massages, to cleansing scrubs and hydrating wraps. You will feel nourished from head to toe.
Please enjoy a 16% discount on your final spa bill, when you purchase any eight spa treatments.
*Four Hand Massage, Beauty Salon Services, Cooking Classes, and Therapeutic Private Sessions (WATSU, Craniosacral, Chiropractic Service, Feldenkrais, Energy Healing, and Acupuncture) are not included. Limited to availability; guests are guaranteed the number of treatments in their package, but not necessarily the specific treatments requested. Spa package is per person, for up to seven continuous days. Package may not be combined with any other promotion. Some restrictions apply. Mexican sales tax will be added to your final bill.
Barefoot and Blissful Spa Packages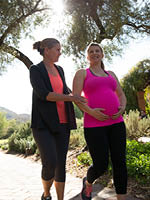 The Ranch has long been known as a great destination for expecting mothers*. The American Pregnancy Association cites several benefits of massage: Our specially trained therapists help relax tense muscles, increase circulation and mobility, and boost energy.
These two spa-package rates allow you to mix and match your choices during a shorter stay, or enjoy the tempting value of five different activities for less than $500 during a week-long visit. Truly, the joy of expecting can be your healthy "joy of spa!"
Our 7-night package includes:
50-minute Pregnancy Massage**
90-minute Blissful Journey Pedicure***
50-minute Custom Facial
60-minute Watsu Session
30-minute consultation with Fitness Concierge
Week long Package: All three spa services listed above, Watsu and fitness concierge $480 per person + tax
Short Stay Package (three- or four-night stays)—Choice of any two spa services from list above and fitness concierge.
$200 per person + tax
*We recommend pregnant women consult their physician prior to their visit or if you are on your 3rd trimester postpone their visit.
**This package can be modified to include any 50-minute massage (excluding the Four-Hand or In-Room) instead of a Pregnancy Massage.
***The 90 minute pedicure includes reflexology and must be approved by physician.