We believe that to truly make a change in your life, you owe yourself a transformative vacation in an environment of peace, where you can relax, move, learn, be challenged, dine on great healthy cuisine, enjoy the camaraderie of like-minded new and old friends, feel secure and absorb the tranquility of nature and a healthy climate.
Packing List

Download a Packing List
Read what one guest has to say about packing for The Ranch.
Rancho La Puerta is casual and informal. We suggest you bring:

For Fitness Classes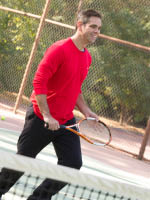 Aerobic, walking, running or cross-training shoes are needed for most classes
Workout clothes
Warm-up suits and cotton-blend T-shirts and shorts
Bathing suit
Court shoes with support and non-marking soles (for tennis and pickleball)
Tennis racket (loaners are available)
Avid birdwatchers should bring their own binoculars for bird walks and general birdwatching (we provide loaners for bird walks only)
For Hikes and Guided Walks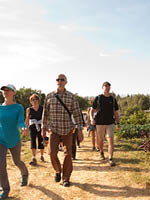 Well broken-in hiking boots or shoes with aggressive lugged tread are REQUIRED for mountain hikes.
Walking or running shoes with good soles are fine for other hikes.
Bring several pairs of synthetic or light wool hiking socks, and liners. No cotton socks, please (they cause blisters).
Warm-up suit or other lightweight-but-warm "layered" clothing system (i.e. shirt plus fleece vest) that allows you to be warm, or cool down, as needed.
Windbreaker
Hiking poles are not available at the Ranch. Please bring your own hiking poles if you plan on using them on the morning hikes.
Fanny pack or small lightweight day pack (capable of carrying a water bottle and snack on hikes). Or…these and other hiking items are sold in our small store. (We provide an over-the shoulder tote bag for your water bottle and other items you wish to keep with you)
For hikes in late fall, winter and early spring,
November to March
Rain gear (we don't get much—perhaps 10 inches a year—but it can happen, usually in Feb. and March)
Warm, light-weight jacket (i.e. synthetic fleece)
Long, loose-fitting pants (warm up or hiking pants)
Scarf or cap
Gloves
For classes at La Cocina Que Canta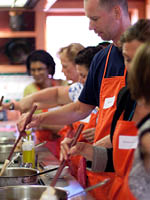 Please remember to bring closed-toe shoes to wear to all hands-on cooking classes at La Cocina Que Canta
For Evening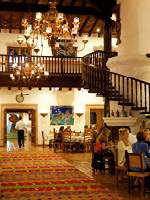 Casual pants or skirts
Shirts or blouses
Sweater or jacket for cool evenings
Low heeled shoes
Don't forget…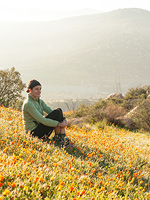 Warm lightweight jacket (i.e. fleece). True, you may not need it in late spring, summer and fall, but even when days are warm (which can be any time of year) nights can be cool. Early mornings any time of year can be cool or cold until an hour or two after sunrise.
Camera
Cash (for tipping, purachases of DVD's, and FMM form)
Cosmetics
Underclothes
Sleepwear
Toiletries
Shaving gear
Sunglasses
Sunscreen
Hat (with brim or visor)
Wristwatch
Over-the-counter and/or prescription medications in its originally prescribed bottle
Favorite music CDs (each room has a CD player/music system)
No need to bring…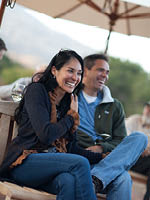 Shampoo, Conditioner, Body Wash and Body Lotion: Our Core Essentials line is available in all of our guest rooms and spas for your daily use.
Plug adapters (the Ranch's electrical current and outlets are U.S. standard)
Hair dryer
Robes
Alarm clocks
Umbrella
Large towels
Reading material (we have a VERY large lending library)
Laptop (we have a free internet access center)
Spanish dictionary (everyone speaks English!)
Tote bag
Jewelry and perfume are best left at home. Instead, enjoy the natural aromas of our herb gardens.
Arriving Early…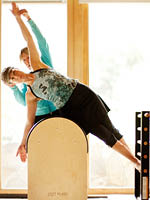 Check in time is 2 pm, if you arrive earlier than that we recommend you include a small "day bag" with any necessary items for you to enjoy your day at the ranch without having to dig for them in your suitcase. It might possibly include sunscreen, swim suit, a hat, workout clothes and shoes.
Climate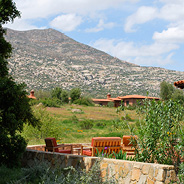 What's the weather like?
Rancho La Puerta is blessed with a mild, Mediterranean climate characterized by cool, moist winters and warm-to-hot, dry summers. Most of the gardens lie at 1,600 to 1,800 feet. This allows for some winter frost, which is a requirement for many fruit trees, but is mild enough for citrus and olives. Brief winters are followed by a long, gentle spring. Summers begin warm and end hot, with our inland valley receiving cooling afternoon breezes from the coast, and occasional drying Santa Ana winds from the desert. Autumn brings warm days and chilly nights. Average yearly rainfall is 12 inches, and water is the garden's most precious resource.
Summer days are usually in the upper 80s (thank you, ocean!) or sometimes 90s, but our very low humidity makes the air feel dry (thank you, desert!). Rooms are cooled by fans, and insulated by naturally thick masonry walls. All rooms also have air conditioners. Our women's and men's health centers, indoor gyms, Main Lounge and Mercado (gift shop) are air-conditioned.
Average temperatures (F) and rainfall

High

Low

Rainfall

January

65

43

3.49″

February

66

44

3.44″

March

67

45

3.92″

April

72

47

1.26″

May

75

51

0.47″

June

83

56

0.20″

July

89

61

0.16″

August

89

62

0.27″

September

86

61

0.42″

October

79

54

0.85″

November

71

47

1.72″

December

65

43

1.99″
Traveling to Mexico

Mexico is a wonderful, convivial country that millions of people visit annually. Rancho La Puerta is just across the U.S.-Mexico border in Tecate, a town in the mountains east of San Diego.
Getting to the Ranch is simple: Take a plane to San Diego, hop on one of our shuttle buses or vans throughout Saturday, and whisk…you're at the Ranch in about 1.5 hours, all but 3.3 miles of the trip on U.S. roads.
Passports

In order to enter Mexico, a current, valid passport is required. In order to return to the United States after visiting Mexico, all U.S. guests need a current passport, passport card, or other approved travel documents (See more info here). (Guests from countries other than the U.S. should check with your country's travel laws and a Mexican Consulate.)
Migratory Form
Mexican
Migratory Form
will be collected by a Rancho La Puerta representative during your arrival if you come via our buses from the San Diego Airport. You will need to bring $32 U.S. Dollars in cash (small denominations to ensure you have the exact amount).
Safety
We can assure you that throughout the last years of the Mexican government's focus on organized crime and cartel-related violence, 100 to 125 guests each week from the United States and other countries have enjoyed their stay at Rancho La Puerta in complete safety.
If you'd like to talk with any former guest of Rancho La Puerta to verify this, we would be happy to give you the names and telephone numbers of those who happen to live near you.
Or, just look at our weekly Activities calendar to discover that many of America's top authors, thinkers, scientists, entertainers, media and others choose to vacation at Rancho La Puerta every week — and they are vacationers just like you.
Consider, also, our location. We are only 3.3 miles from the U.S. We transport our guests from the San Diego Airport to Rancho La Puerta entirely over U.S. roads in San Diego, except for the last 3.3 miles.
We do not drive through Tijuana or anywhere near it. We live in a time of heightened media focus on the challenges Mexico faces. Even the United States Department of State, in our opinion, has issued travel warnings about Mexico with too broad a brush. In fact, most of Mexico's hot spots are more than 1,000 miles from the Ranch.
We invite you to give yourself the gift of health!
Read letter from Hugo F. Rodriguez, chief of Western Hemisphere Affairs Division, U.S. Dept. of State
All travel is inherently an adventure, but we assure you that Mexico and Rancho La Puerta will welcome you with the utmost care and conviviality, as we have all our guests since 1940.
Location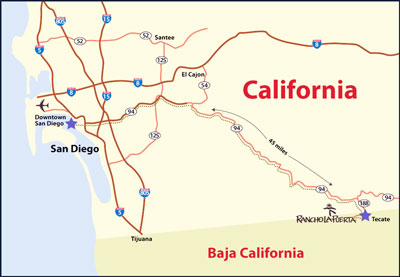 Founders Edmond and Deborah Szekely discovered our location in 1940 during Edmond's worldwide search for what he considered an ideal year-round climate. Rancho La Puerta is located in Tecate, Baja California, Mexico: 45 road miles inland from downtown San Diego and the San Diego Airport (SAN). All but the last 3.3 miles of the drive are on U.S. roads. Elevation is 1,700 feet (note: we are not in the desert). The terrain is mountainous, with sacred Mt. Kuchumaa the dominant landmark above our valley of oak groves, grasslands, and a seasonal stream. In all, Rancho La Puerta owns 4,000 acres here—2,000 of which we declared a permanent Nature Preserve and home to our extensive hiking program.
While At The Ranch
Check In/Out times
Check-in after 2 p.m. Check-out before 11 a.m. If you arrive before check-in time you are welcome to take full advantage of our programs and facilities. Luggage storage is available for early arrivals, as well as those who may be departing an hour or two after check-out time.
Contact at The Ranch
F
RONT
DESK
OPERATOR
By telephone: 858-925-1214 or (011) 52-665-654-9155
By Facsimile: (011) 52-665-654-1108

CONCIERGE*
concierge@rancholapuerta.com
*Please use the concierge email to contact a guest, inquire about lost items, etc. Please do not send advertising and/or marketing proposals to this address.
Mailing to a Guest
SENDING AN OVERNIGHT LETTER OR PACKAGE (I.E. BIRTHDAY GIFT OR FORGOTTEN ITEM) TO A GUEST
Guest or Staff member's name
Rancho La Puerta
c/o R.L. Jones
24024 Humphries Road, Bldg. 2, Ste. A
Tecate, CA 91980
Phone number: (619) 478-5324 x.109

Please note: Most large packages/boxes (not overnight letters) must be picked up in person by a guest on the U.S. side of the border in Tecate, U.S.A., so your recipient will have to leave the Ranch with one of our drivers, return to the border, and cross into the U.S. –a time-consuming process that interrupts the Ranch experience.
Hence, you may wish to consider this difficulty when shipping a packaged or boxed item to a guest at Rancho La Puerta. Our shop sells most essential items that a guest may have forgotten to bring, or our concierge can arrange for almost any other purchasing needs in town —unless it's something quite unique to your needs. Some commonly shipped items include hiking boots, books, cameras, and medicine.
Don't hesitate to call our Concierge if you wish to surprise a guest with a gift or flowers; they can make all arrangements and personalize your present without you having to ship anything.