Most guests from outside of Southern California arrive via commercial airline at San Diego International Airport (SAN) on a Saturday. Our staff greets you in the terminal and soon you're on a motor coach heading for Rancho La Puerta. If you live in San Diego or even Los Angeles, you may be close enough to drive to Tecate in one to 2 1/2 hours. See below for details.
Arrival/Departure

Please keep in mind we are located in Tecate, Baja California, Mexico and a valid passport is mandatory for travel to Mexico from the US.
We provide scheduled, complimentary ground transportation for your Saturday arrival and departure to and from San Diego International Airport.
Buses depart San Diego airport for the Ranch at 8 a.m., 10 a.m., 12:15 p.m. and 2:45 p.m.
Schedule your complimentary Saturday arrival transportation.
Please note: Buses leave on time and cannot be held for late-comers. (See below in the event of a late or delayed flight.)
 The Tecate Border Crossing is closed from 11 p.m. to 5 a.m.
Driving Directions
TO RANCHO LA PUERTA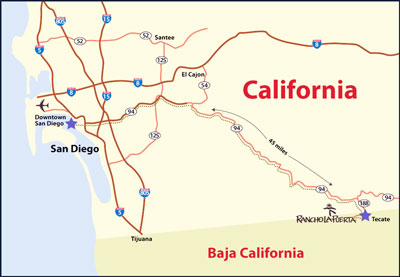 Reminder: we are located in Tecate, Baja California, Mexico just 45 miles southeast of San Diego. A valid passport is mandatory for travel to Mexico from the US.*
The highway from San Diego that takes you to the Tecate turnoff is CA-94, one of the most scenic country drives in California. In the San Diego metropolitan area, CA-94 runs east-west and roughly parallels Interstate 8, which is farther north. Consequently, the city's main north-south highways (I-5, 163, 15, 805 and 125) all intersect CA-94. East of San Diego, CA-94 turns southeast, toward Mexico.
We recommend obtaining additional insurance coverage for driving in Mexico, as most US policies do not cover driving south of the border. (Call us: we can tell you how to obtain insurance for the few days you are in Mexico with your car.)
(Note: You may opt to leave your car on the U.S. side in Tecate, California, just north of the border crossing. We will send a Ranch van and driver to pick you up at the border, escort you through the simple visa process, and on to the Ranch! Please keep in mind the Tecate border crossing is open 5 a.m. to 11 p.m. The lot where you leave your car is one we use frequently and typically costs about $5 per day.)
Have fun! The drive is easy…especially if you watch for CA-94 signs all the way. This highway has a few splits and turns that drivers occasionally miss. For example, if you are coming from San Diego, be sure to stay on 94 EAST where the highway splits near Lemon Grove. You will leave Highway 94 where it connects with Tecate Road (Highway 188), two miles north of the border.
Please plan to call the Front Desk when you reach Campo Rd., so we have an estimated time of arrival at the US/Mexico border (858)925-1214
From Interstate 5 and downtown San Diego/airport vicinity
Take Interstate 5 south to the Highway 94 turnoff.
Go EAST 13.3 miles.
Turn RIGHT onto CAMPO RD / CA-94. Continue to follow CA-94 for 23.6 miles.
Bear RIGHT to go onto CA-188 / TECATE RD for 2 miles, to the border.
Interstate 5 south to the Highway 94 turnoff
From north of La Jolla, via I-5 South to I-805
.
Merge onto I-805 South via the exit on the LEFT. Go 14.7 miles.
Merge onto CA-94 East. Go 11.2 miles.
Turn RIGHT onto CAMPO RD / CA-94. Continue to follow CA-94 for 23.6 miles.
Bear RIGHT to go onto CA-188 / TECATE RD for 2 miles to the border.
Via Interstate 8 from Arizona

Near the summit after the climb on I-8 out of the desert into San Diego County's mountains, take the CA-94 exit toward Boulevard/Manzanita.
Turn LEFT onto CA-94/Ribbonwood Road. Continue to follow CA-94 0.6 miles.
Turn RIGHT onto CA-94/Old Highway 80. Continue to follow CA-94 25.6 miles.
Turn LEFT onto CA-188/Tecate Road. Go 2 miles to the border gate.
Once you cross the border
Ask border patrol officers where to park to purchase a migratory form. The form cost is approximately $32 (small denominations) depending on the exchange rate. The immigration office is open seven days a week from 5:00 a.m. to 11:00 p.m. Customs officers at border crossing do not provide forms, thus you must park and enter the immigration office to complete your migratory form process. If you arrive outside these hours, you can return to the visa office the next day (Rancho La Puerta personnel will help you).
DRIVING FROM THE BORDER TO RANCHO LA PUERTA
1. Proceed STRAIGHT three blocks, to the second stoplight. You'll see the town's tree-shaded plaza ahead on your left.
2. Turn RIGHT on Juarez (Tecate's main street) and go WEST 3 miles.
3. Turn RIGHT into entrance to Rancho La Puerta. Note: Past the downtown district, the road appears to fork; on the right, up the hill, is a residential area. Stay left to continue on Juarez, which becomes a divided four-lane road. Watch for easy-to-miss stop signs at cross streets, and topes (speed bumps). If you cross a small bridge over a river, you've gone too far.
BORDER HOURS
The border is open daily from 5 a.m. to 11 p.m.
RETURNING TO THE U.S. FROM RANCHO LA PUERTA
If you drove your own car to the Ranch, please note that the return drive to the border crossing is not quite the same. Visit the Front Desk or Concierge near the end of your stay for driving directions and information about crossing at Tecate's garita (border gate).
Extra Night In San Diego?
Sheraton San Diego Hotel and Marina

If you wish to spend a night (or more) in San Diego either before or after your Rancho La Puerta visit…
We are delighted to be in a partnership with the Sheraton San Diego Hotel and Marina (1380 Harbor Island Drive, San Diego 92101), which offers Ranch guests an exclusive rate starting at $189-$229* per night+tax (space available, for stays in 2018 to March 31, 2019). Located across from San Diego Airport on San Diego Bay's Harbor Island, the Sheraton provides complimentary shuttle service to and from the airport (a 5-minute trip), making it easy for you to link with Rancho La Puerta's shuttle bus service on Saturdays.
Reservations must be made by calling the Sheraton at 1-877-734-2726 and referencing code: SETRANCH.
*Resort fee of $26 per day not included in rate. This fee covers high speed internet access, local calls, access to tennis facilities, and one-hour bicycle kayak or stand up paddle board rental per day. Subject to changes.
Courtyard Marriott San Diego Airport/Liberty Station
Rancho La Puerta travelers may book by calling (619)221-1900 or directly or toll free number (800) 321-2211. Please ask for the Rancho La Puerta corporate rate program, or company code "RLP". The rate is valid until December 31st 2018*, and the discount is based on availability, so please book in advance. You can also book online at
www.marriott.com/sanal
by entering the arrival and departure dates, select Special Rates drop down, elect Corporate Promotional Code, and enter the Company internet code
"86W".
Arrivals:
Once you have picked up your bags please dial (619) 221-1900 for a pick-up from baggage claim make your way to the "Courtesy Vehicle Pickup" area. The shuttle is white with the words 'Liberty Station' over the front windshield.
Departures:
Please contact a Front Desk Agent the day prior to departure to schedule a trip to the airport. Shuttle leaves every half hour 4:30am-1pm, and on-demand from 1pm-11pm.
*All rates are based on availability. Some restrictions apply.