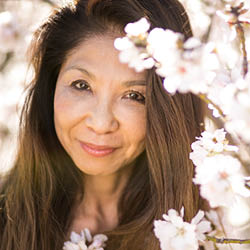 Specialty: Pilates and GYROTONIC®
Cathleen Murakami currently is the department head of Pilates and GYROTONIC® at Rancho La Puerta.  She brings with her over 20 years experience in Pilates and over 30 years working within the fitness industry.  Initially an aerobic instructor and personal trainer in the 80's, Cathleen certified in Pilates through Alan Herdman Studio in London, Marie Jose Blom (Long Beach Dance Conditioning)  and Physicalmind.  She worked at The Ranch from 1992-1996 to assist in creating the initial Pilates program. Upon leaving, she went on to own Synergy Systems® Fitness Studio in Encinitas, CA where she taught clients privately as well as conducted numerous instructor certification courses.
Certified in GYROTONIC® and GYROKINESIS®, Cathleen has produced numberous instructional DVD's, is a featured instructor on Pilates Anytime, a web-based instructional site, has authored Morning Pilates Workouts, teaches at fitness and Pilates conventions annually, and leads outings to Italy combining Pilates and culinary experiences.
In her spare time, Cathleen loves to read, travel, bond with her two cats, and work on expanding her consciousness of energy and the world around her.
Schedule
November 26, 2017
Start
End
Activity
Instructor(s)
Location
11:00 AM
11:45 AM
1:00 PM
1:30 PM
2:00 PM
2:45 PM
November 27, 2017
Start
End
Activity
Instructor(s)
Location
11:00 AM
11:45 AM
2:00 PM
2:45 PM
4:00 PM
4:45 PM
November 28, 2017
Start
End
Activity
Instructor(s)
Location
11:00 AM
11:45 AM
2:00 PM
2:45 PM
3:00 PM
3:45 PM
November 29, 2017
Start
End
Activity
Instructor(s)
Location
9:00 AM
9:45 AM
11:00 AM
11:45 AM
December 3, 2017
Start
End
Activity
Instructor(s)
Location
9:00 AM
9:45 AM
11:00 AM
11:45 AM
1:00 PM
1:30 PM
2:00 PM
2:45 PM
December 4, 2017
Start
End
Activity
Instructor(s)
Location
9:00 AM
9:45 AM
10:00 AM
10:45 AM
11:00 AM
11:45 AM
December 5, 2017
Start
End
Activity
Instructor(s)
Location
11:00 AM
11:45 AM
2:00 PM
2:45 PM
3:00 PM
3:45 PM
December 6, 2017
Start
End
Activity
Instructor(s)
Location
9:00 AM
9:45 AM
10:00 AM
10:45 AM