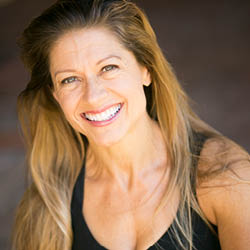 Specialty: Strength, Yoga & Running
Jennifer DeMarco, Fitness Instructor at Rancho La Puerta, inspires guests to reach their running and fitness goals. Jennifer's teaching philosophy combines safe fitness practices, proper nutrition, and behavioral changes. She holds a MS in Health Education, BS in Physical Education, and a BS in Exercise Physiology. Jennifer has an extensive teaching career: she is a college professor in Exercise Science and Wellness, group exercise instructor, and has 15 years of experience coaching cross country and track. Jennifer has been nationally ranked for the Half IRONMAN Triathlon distance, is a two time All-American in Cross Country (trail running), has completed 26 full length marathons, and is consistently ranked top in her age group at 5K, 10K, 1/2 marathons in San Diego, California.
Jennifer is the proud mother of two, and as a cancer survivor she celebrates each-and-every step!
Schedule
October 26, 2017
Start
End
Activity
Instructor(s)
Location
2:00 PM
2:45 PM
4:00 PM
4:45 PM
October 27, 2017
Start
End
Activity
Instructor(s)
Location
6:05 AM
8:50 AM
October 28, 2017
Start
End
Activity
Instructor(s)
Location
6:15 AM
7:45 AM
2:00 PM
2:45 PM
October 29, 2017
Start
End
Activity
Instructor(s)
Location
9:00 AM
9:45 AM
10:00 AM
10:45 AM