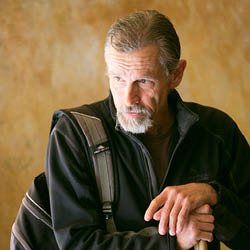 Specialty: Guest Presenter: Artist & Bird Expert
Rob was born in Monterrey, California and spent 30 years in the Pacific Northwest, with notable detours through Southeast Asia and the American Midwest.  He holds a degree in nursing and a degree in fine arts. As an artist, Rob has worked with sculptural media including wood, bronze and the majority of his work has been with clay. He has taught studio art classes and designed and developed ornamental gardens. His love for nature started early working in the Oregon woods as a sawyer.
Along with his interests in art and horticulture, Rob enjoys free-diving coral reefs and bicycle touring. He has done a bicycle tour from Oregon to Panama!
Rob started working with Salvador in Tres Estrellas, our organic garden, in 2000.  To Rob, the Ranch represents over 70 years of learning and teaching about life. It is experimental in ideals, an institution of the real higher learning and a gathering place for life-long learners.
Schedule
October 24, 2017
Start
End
Activity
Instructor(s)
Location
9:00 AM
9:45 AM
11:00 AM
12:15 PM
October 26, 2017
Start
End
Activity
Instructor(s)
Location
11:00 AM
12:15 PM
October 27, 2017
Start
End
Activity
Instructor(s)
Location
9:00 AM
9:45 AM
11:00 AM
11:45 AM
October 31, 2017
Start
End
Activity
Instructor(s)
Location
9:00 AM
9:45 AM
11:00 AM
12:15 PM
November 2, 2017
Start
End
Activity
Instructor(s)
Location
11:00 AM
12:15 PM
November 3, 2017
Start
End
Activity
Instructor(s)
Location
9:00 AM
9:45 AM
11:00 AM
11:45 AM