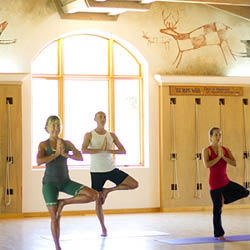 Adam James Gallo
Specialty: Mixed Discipline/ Yoga
Adam began his fitness career teaching Martial Arts and group fitness to adults at just 13 years of age. Under the strict tutelage of his teacher, Jose Calasanz Martinez, Adam graduated to private personal training two years later. Since then, Adam has been a disciplined practitioner and teacher of various modalities, ranging from meditation techniques, bouldering, gymnastics, barre, functional mobility, myofascial release techniques, fascial strength training, circuit training/ HIIT and most recently Evolutionary Yoga, under the watchful eye of it's creators; his West-coast parents and former Ranch Full-timers (now special guests), Paul Gould and Jenni Fox.
Adam is honored to join the esteemed roster of talented polymath practitioners at Rancho La Puerta.
In his spare time, Adam takes great pleasure in reading & writing, podcasting, quiet meditation and of course, expanding his base of knowledge and abilities to better serve your needs at The Ranch.