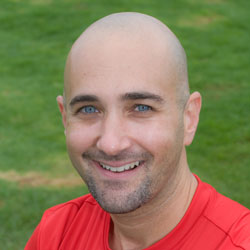 Ethan Carter
Specialty: Pilates & Functional Fitness
Ethan Carter is a classic Pilates instructor and personal trainer with over 12-years of full-time professional experience in the fitness industry and 35-years of athletic training. He has been certified by NASM, ACE, AFAA, PMA, and Power Pilates. Ethan has worked for some of the top fitness companies in New York, Los Angeles, and San Diego. In addition to working with private clients he also teaches group fitness classes including indoor cycling, BOSU, and various conditioning formats.
He has been an athlete all his life, starting as an avid swimmer and tennis player, then participating in high school team sports like soccer, basketball, and lacrosse. He was team captain, head of the student body athletic association, and voted "most valuable player" for his junior and senior years.
After his first Pilates Mat certification Ethan took a leap of faith and invested in a "Comprehensive" certification and 6-month apprenticeship program. After 2-months in the Pilates program and taking 3-lessons a week Ethan's back pain and sciatica were gone and they never came back. Pilates changed Ethan's life and now he wants to share his love and passion for Pilates. He knows the Pilates method can uniformly develop a beautiful body but more importantly it heals the mind, body, and spirit.