If you're a casual runner, training for a race, or looking for the perfect place to recover after a big run — our Running Retreat is for you. You will run, cross-train, skill-build, stretch, rest, relax…and have plenty of fun!
Our activities will keep you in peak shape for your next big run:
RUN on scenic running trails, throughout meadows, and on a track with The Ranch's Running Concierge as your guide.
CONDITION your entire body – choose from 50+ daily fitness classes such as core challenge, cycling, and circuit training.
CROSS-TRAIN in fitness classes designed for every body.
RECHARGE yourself with fresh, flavorful, and healthy spa cuisine.
RECOVER, flex and lengthen with foam roller stretches and yoga.
REST with a deep tissue massage at the spa, in a hot tub, on a hammock…the list is endless.
Running Program
Roadrunner Trail Run: 3 - 5 Miles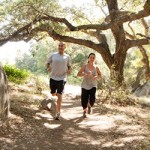 Embark on a three, four, or five mile run on rolling hills, which weaves through serene meadows and chaparral. This is a great training run if you are preparing for a race.
Coyote Trail: Mountain 4 – 6 Miles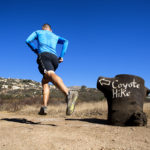 Push yourself with elevation gains and enjoy scenic vistas of The Ranch and Kuchumaa Mountain.
Cottontail Trail: Mountain 9 Miles
Advanced runners will enjoy this challenging, steep and fun run. Those who adventure on the Cottontail Trail will be rewarded with majestic, stunning and far-reaching views.
Running Clinic
This class is designed for all levels of runners; whether you are just getting into running or whether you compete (any distance). The class includes an introduction to a running warm-up, dynamic run-specific stretching and a series of classic speed and form drills interspersed with acceleration drills. Plus, you will have a chance to monitor your VO2 levels.
Recommended Fitness Classes
Release and Mobilize
Experience deep muscle release and increased mobility using tennis balls on specific trigger points and myofascial junctions with the goal of decreasing tightness and muscle spasms.
Ideal for runners as a means to target specific areas while keeping fascia subtle and balancing the tightness that may occur from regular running. For example, this type of targeted release has been shown to help reduce the risk of plantar fasciitis.
Foam Roller
Release muscular tension and increase range of motion through massage on a cylinder roller.
Foam roller stretching is an effective way to increase circulation to the muscles used in running. May help move lactic acid created during training through the body more quickly which would decrease post run soreness.
Circuit Training
A 15-minute cardio segment followed by a vigorous balance/strength/coordination workout around a multi-station circuit. Introductory classes available on Sunday.
Whether you are new to running or an experienced runner, this class will help balance the endurance muscle fibers trained in running by emphasizing the strength fibers. A great way to balance the types of muscle fibers being trained and thus decrease imbalance and injury. It's also the perfect recovery workout!
Core Challenge
A 30-minute core workout that perfectly targets and strengthens the mid-section muscles.
This class will help runners maintain strong abs, which helps to improve running power, stability and endurance
Yoga and Stretching Classes
Our instructors bring a wide range of teaching styles including Iyengar, Ashtanga and Vinyasa and will include various combinations of Sun Salutations, Pranyama, yoga philosophy, inversions, backbends, and twists. An invigorating and creative practice. (75 minutes)
Yoga and stretching improves muscle strength and range of motion which runners need for optimum performance. These classes will help loosen tight spots, strengthen weak spots, and help reduce chance of injuries.
Cycling
Great class for those starting up or starting back to an exercise routine. This is a 30-minute cycle class that will increase your stamina and build confidence as you bring your fitness levels up.
Supplement your running routine with cycling. This class helps runners increase their cardiovascular fitness, with very little stress/ on the body. A great workout for non-running days.
Recovery Treatments
Ranch Classic Massage
Our Classic Massage is perfect for runners who want to relax, revitalize, and ease tension throughout the entire body. It provides the many substantiated health benefits of massage, and it especially aims at releasing stress and tension in the body and mind. Depending on your preference, the rhythm of your massage can be slow and gentle, vigorous and firm, or deep pressure. Select from our aromatic wellness oils to enhance your treatment experience.
Relaxing. 50 min., 90 min.
Sports Recovery Massage
The Sports Recovery Massage is the ideal antidote for runner's who have fatigued, sore or tense muscles. It incorporates a variety of deep massage techniques with some assisted stretching to release muscle tension, improve flexibility, and range of motion. It also aids in the prevention of injuries.
Restoring & Energizing. 50 min.
Detox Massage
The Detox Massage is perfect for runners who want to flush lactic acid buildup away from sore limbs and invigorate the entire body. It uses special beauty massage cups and 100% natural active ingredients from Mother of Pearl extracts to enhance natural beauty. Gentle breathing and profound detoxifying massage techniques revitalize the body and prepare it for the subsequent intense circulation-stimulating massage with the silicone cups. This balanced treatment promotes the revitalization and elasticity of the skin.
Cleansing & Restoring. 90 min.
Not recommended if you are pregnant
Wellness Journey Massage
Runners will love the Wellness Journey Massage as it warms, soothes, and supports the whole body. It provides a holistic experience that soothes the soul and allows the body to heal physically and emotionally. The power of each wellness focused aromatherapy blend is based on the therapeutic properties of essential oils which encourage muscle recovery. Our unique massage technique supports the immune system and promotes balance. Hot compresses applied along the spine help essential oils penetrate the nervous system.
Relaxing, Restoring & Energizing. 50 min., 90 min.
Not recommended if you are pregnant.
Runner's Reflexology

The Runner's Reflexology treatment soothes and revive runners' feet and legs. Our therapist applies targeted pressure to points on the feet with the help of energy balancing gem stones. This treatment releases energy blockages and stimulates circulation, which relieves stress and increases well-being in the entire body.
Cleansing, Restoring, Energizing & Relaxing. 50 min.
Not recommended if you are pregnant.
Happy Hands and Feet
You'll derive total relaxation from our combination of foot reflexology and hand massage. Communication with the whole body through the hands and feet releases energy blockages in the meridians and trigger points. A warm finishing dip of essential oils leaves your hands and feet satiny smooth and soft. This treatment warms, nourishes and refreshes runner' feet, and can help alleviate plantar fasciitis.
Cleansing, Restoring, Energizing & Relaxing. 50 min.
Not recommended if you are pregnant.
Feldenkrais® Method
Improve comfort, posture, and balance while reducing pain, tension, and stress. Each Feldenkrais® Method session is tailored to meet your needs and aimed to improve how you feel and function. As you lay fully clothed on a table, your body will be gently moved in ways that allow for effective communication with the brain and the nervous system. Sessions are designed to increase confidence and pleasure in daily activities. Ideal for runners of all levels
Our Team
Jennifer De Marco
Jennifer DeMarco, Fitness Instructor at Rancho La Puerta, inspires guests to reach their running and fitness goals. Jennifer's teaching philosophy combines safe fitness practices, proper nutrition, and behavioral changes. She holds a MS in Health Education, BS in Physical Education, and a BS in Exercise Physiology. Jennifer has an extensive teaching career: she is a college professor in Exercise Science and Wellness, group exercise instructor, and has 15 years of experience coaching cross country and track. Jennifer has been nationally ranked for the Half IRONMAN Triathlon distance, is a two time All-American in Cross Country (trail running), has completed 26 full length marathons, and is consistently ranked top in her age group at 5K, 10K, 1/2 marathons in San Diego, California.
Jennifer is the proud mother of two, and as a cancer survivor she celebrates each-and-every step!
Martin Ruiz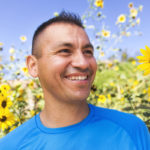 Rancho La Puerta's Running Concierge, Martin Ruiz, helps runners of all levels achieve their goals. In his ten years of running experience, Martin has taken first place in several 5K and 10K races. He most recently won first place in his age group at the Spartan Sprint in Pala, California. In addition to these accomplishments, Martin has been recognized as Employee of the Year twice in his twelve years at Rancho La Puerta. He lives by a smart training philosophy: a balance of total body conditioning, mental preparation, proper form, nutrition, rest, and recovery. Martin's insights empower guests to unleash their physical talents and make the most out of their Rancho La Puerta running vacations.
Martin Ruiz lives in Tecate, Baja California, Mexico, with his wife and two children.
Enter your information below to receive updates about our Running Retreats.


*By filling out the form above, you are agreeing to subscribe to Rancho La Puerta email communication, from which you can choose to opt out of at any time.