An Appreciation in Contemporary Music.
Using art, literature, and music as the vehicle, ART IN ITS MOMENT time travels five eras of history showing how the artistic expression reflects the period from which it grew.
The Classical 1750-1820
The Romantic 1800-1850
The Modern 1900-1940
Mid-20th Century 1950-1995
21st Century 2000-2016.
Weaving literature, art and music into an auditory visual fabric, ART IN ITS MOMENT brings alive the different textures of each historical period and reveals the contrasts as well as the continuities that separate and connect the different eras.
Presented with examples of literature, art, and music, ART IN ITS MOMENT shows how the art created in each historical period grows from the experience of being alive in that particular period.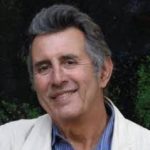 Graduating cum laude from Yale University and with an MFA from the Iowa Writers' Workshop, Hugh Levick set off for Paris to write a novel. In Paris he returned to his musical beginnings and the saxophone, studying and playing with Anthony Braxton, Steve Lacy and the Chicago Art Ensemble, amongst others. Later in NYC he studied composition at Julliard with Stanley Wolfe and David Diamond, and privately with John Cage and Vinko Globokar. During the 1980's and 1990's in both the US and France, Levick composed, directed and performed the music for over two dozen stage productions. Levick's solo performance piece, KID COPY, for a musician and his pre-recorded video double, was produced by the EDAC of Poitiers, France and toured in both France and the US. It was performed in the Bing Theatre at LACMA where two concert readings of his chamber opera, THE EMBRACE OF REASONABLE TERROR, were also given. For the Brooklyn Bridge Centennial Celebration Levick was awarded grants by the NEA and the NY State Council for the Arts to create the Imago Ensemble, a combination of live and video-taped musicians. He also received an Artist-in – Residence award from PASS in NYC, and was awarded a studio in the Cite International des Arts in Paris. Levick has adapted Kafka's first novel, AMERIKA, into an opera entitled THE MAN WHO DISAPPEARED and has written the libretto and the music for BANG FOR THE BUCK, an opera in 2 acts. Levick's 3rd opera, PARADISE LAST, will create—along with THE MAN WHO DISAPPEARED and BANG FOR THE BUCK, a trilogy which extends from the early 20th century to 2050. NOSOTROS- a violin solo with electronics— was premiered by Davis Brooks in 2006, and will be included on Brooks' CD of pieces mixing electronics and the violin. Performed in—among other places- Los Angeles, Paris, NYC, and Spain, Levick's music has been described by critic Rodney Punt: "Levick channel(s) Bach's mental energies and Hindemith's angularities." Composer William Kraft: "(Levick's) effort is to accept the fragments of our fundamentally shattered world and imaginatively transform them into vessels of beauty." In 2012 Signature Records, the dynamic and eclectic label sponsored by Radio France Musique, produced and recorded the DIOTIMA STRING QUARTET playing Levick's three string quartets. The CD was released in September, 2013.The DIOTIMA has subsequently performed Levick's three string quartets in New York, Paris, Formentera and Berlin. In December, 2015 Levick recorded a second CD for Signature Records/Radio France. For 2016 Levick is commissioned by the series PIANOSPHERES to write a piano solo for 'speaking pianist' for renowned LA pianist, Mark Robson. Levick has also been commissioned by the King's Fountain Foundation to write a new piece for string quartet. Levick has also been named Artistic Director of the Mona Bismarck American Center Festival of New American Music. The inaugural festival entitled, HEAR NOW— with Paris featuring the music of LA composers in December, 2016, was part of the Festival d'Automne.