Brain Works: The Art and Science of Preventing Alzheimer's with Food.
Brain Works Kitchen is a traveling cooking school that teaches how to cook and eat the foods proven to protect and nourish the brain. Created by Dr. Annie Fenn, an Obstetrician/Gynecologist and Menopausal Health Expert, Brain Works Kitchen is part hands-on cooking class, part medical consultation, and part of the solution to wipe out Alzheimer's disease.
Experts are predicting an epidemic of Alzheimer's in the coming decades. Women are especially vulnerable to this disease: Two-thirds of all Alzheimer's victims are female; two-thirds of all dementia caregivers are female too. Studies are starting to show that by modifying lifestyle factors — what we eat and how we live — we can prevent or delay the onset of cognitive decline. Our food choices are especially important; they can either protect and nourish the brain or contribute to its early decline.
What are the best oils to cook with? What should we drink to nourish the brain? How much alcohol is safe to drink? Is there an optimal dementia prevention diet? Should we be vegan, vegetarian, or paleo? Follow the Mediterranean, MIND, or ketogenic diets? Nutrition can be complicated; Dr. Fenn teaches how easy it is to eat for brain health. She summarizes the most current medical data about what to eat to prevent dementia, enhance longevity, and optimize the function of our brains.
Dr. Fenn's lecture— Brain Works Kitchen: The Art and Science of Preventing Alzheimer's With Food —will cover the science behind her cooking classes, the 10 brain health food groups defined by the MIND diet study, and the 5 food groups to avoid. She will give practical tips for cultivating a brain healthy lifestyle, both in and out of the kitchen. Dr. Fenn will also be this week's visiting chef at La Cocina Que Canta. Using modern techniques and innovative shortcuts in the kitchen, her classes emphasize streamlined meals that are inherently brain healthy and delicious. Guests are advised to book classes in advance; on Dr. Fenn's last visit to Rancho La Puerta, all three hands-on cooking classes sold out, and she added a fourth class, which also quickly sold out.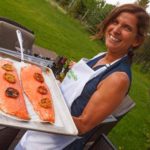 Dr. Annie Fenn is an Obstetrician/Gynecologist who specialized in Menopausal Health for over 20 years. She retired from clinical practice to teach people how to cook and eat with brain healthy foods. "Cooking is the best way I know, as a physician," she says, "to radically improve health." Dr. Fenn teaches Brain Works Kitchen cooking classes throughout the US and abroad. She created the website www.brainworkskitchen.com to share brain-nourishing recipes and the latest information about dementia prevention. Brain Works Kitchen is part of the only community-based dementia prevention program in the country: Brain Works, a 6-week course or 7-day Boot Camp in Jackson Hole, Wyoming.
Classes take place at La Cocina Que Canta, our culinary center on Tuesday, Wednesday and Thursday at 4pm. For more information and registration, please click here.