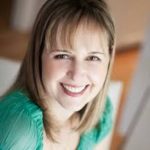 Amanda was born to eat. So it was no surprise when she took a job with Williams-Sonoma after college. For 7 years, Amanda worked for the company she had always admired. In 2001, she left to pursue her dream of attending culinary school. Following graduation from Tante Marie's Cooking School in 2002, she tested recipes for the founder's cookbook and began to teach classes at the school. She also returned to Williams-Sonoma for a three month stint in their test kitchen, allowing her to hone her recipe development skills. Amanda then launched Proof Recipes and has since tested and developed over 400 recipes for dozens of cookbooks, including the IACP Cookbook of the Year recipient A16 Food + Wine. In addition, Amanda was the culinary producer for the James Beard Award-Winning Show "Bay Cafe with Joey Altman" for two seasons. Over the past 4 years, Amanda has filmed over 50 instructional cooking videos for Williams-Sonoma which are featured on their website at williams-sonoma.com . Her most meaningful project to date has been the launch of One Family One Meal. She loves hearing that her recipes have helped families sit down together at the table, and that young children have become more open to eating new things. Launching One Family One Meal has allowed Amanda to support some amazing endeavors. Currently, Amanda is proud to be partnering with Revolution Foods.
Amanda lives with her husband and two sons outside of San Francisco. When she's not cooking, she's busy enjoying the Bay Area with her family and deciding where to eat next. You can always find chocolate, olive oil, and onions in her pantry.
Chef Amanda offers three hands-on culinary experiences, 3.5 hours each, during which you will enjoy preparing your own meal along with fellow cooks. Classes take place at La Cocina Que Canta, our culinary center on Tuesday, Wednesday and Thursday at 4pm. For more information and registration, please click here.