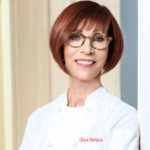 Fran Costigan, pastry chef, cookbook author and director of Vegan Baking and Pastry at Rouxbe cooking school, is internationally renowned as the authority on vegan desserts. Her unapologetically luscious treats lack nothing—except dairy, eggs, white sugar, and cholesterol. Professionally trained, Fran was a chef in both traditional and vegan pastry kitchens before moving into teaching over 20 years ago.
Fran's cookbook, Vegan Chocolate Dessert: Unapologetically Luscious and Decadent Dairy-Free Desserts, is available in German, French and Italian editions and follows the classic, More Great Good Dairy Free Desserts Naturally.
You can find Fran sharing her passion across North America and Europe, at schools, conferences, festivals, and corporations such as Google, at resorts and on cruise ships too. A professional member of New York Women's Culinary Alliance, International Association of Culinary Professionals, and Women Chefs and Restaurateurs, Fran is proud to be an advisory board member of the New York Coalition for Healthy School Foods, Vegan Trade Council and Main Street Vegan Academy, and a member of Plant Food Association.
For more information, visit francostigan.com
Follow @GoodCakesFran on Twitter, @GoodCakesFran Instagram, Pinterest and Fran Costigan Vegan Pastry Chef on Facebook.
Fran offer three hands-on culinary experiences, 3.5 hours each, during which you will enjoy preparing your own meal along with fellow cooks. Classes take place at La Cocina Que Canta, our culinary center on Tuesday, Wednesday and Thursday at 4pm. For more information and registration, please click here.