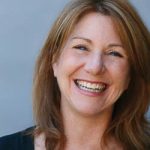 Jill Silverman Hough is a cookbook author, food and wine writer, recipe developer, cooking teacher, and food photographer.
"Food and eating are two of my favorite things in life," she says, "and I feel crazy-lucky to make my living celebrating them.
Her cookbooks include 100 Perfect Pairings: Small Plates to Enjoy with Wines You Love and 100 Perfect Pairings: Main Dishes to Enjoy with Wines You Love—each chock-full of delicious, doable recipes that make food and wine pairing fun, friendly, and absolutely unintimidating. Other projects include co-authoring The Clean Plates Cookbook and developing the recipes for Skinny Bitch in the Kitch, a New York Times best seller.
Her writing and recipes have been published in magazines including Bon Appétit, Cooking Light, Napa Sonoma, Clean Eating, and Fine Cooking, where she's drinks editor.
She creates recipes for brands and commodity boards, too, including the National Pork Board, the California Milk Advisory Board, California Sweetpotatoes, Lindsay Olives, Annie's Homegrown, Circulon, Anolon, Robert Mondavi Winery, and Grgich Hills Estate.
Last by not least, she teaches cooking to home chefs around the San Francisco Bay Area and beyond. Her classes are jam-packed with energy, enthusiasm, and immediately-useful information—plus, of course, delicious food.
Jill's background includes a dozen years as an advertising copywriter at agencies in New York, Los Angeles, and San Francisco. She launched her food career by opening a small cafe in Sausalito, which she ran for five unforgettable years and where she made—among other things—the world's best chocolate chip cookies.
You can read Jill's blog at jillhough.com and follow her on Facebook, Pinterest, Twitter, and Instagram.
Chef Jill Silverman Hough offers three hands-on culinary experiences, 3.5 hours each, during which you will enjoy preparing your own meal along with fellow cooks. Classes take place at La Cocina Que Canta, our culinary center on Tuesday, Wednesday and Thursday at 4pm. For more information and registration, please click here.