Deepening our Connection with the Maiden, Mother, and Crone through Ritual and Totem Pieces
At the Ranch, Clare will lead the women in a 90 minute session that will cumulate in each woman creating her own special totem piece. This session will consist of a ritual with three altars representing the three aspects of womanhood: the Maiden, the Mother, and the Crone. During the ritual the women will be asked to reflect on their lives and choose an aspect of themselves that they would like to honor, embrace, or heal. Through a guided meditation they will focus on their intentions and prayers and then return to the altars to choose their pieces for their totem piece. 90 minutes. There is a materials fee. Sign Up.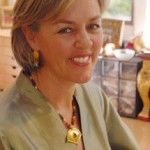 Clare Ullman has been a ritualist in the Bay Area for the past 25 years, leading women through ceremonies honoring the many stages of womanhood. Rites of Passage, Marriage, Pregnancy and Birth, Healing, Loss, and Rebirth are just a few of the ceremonies she creates that characterize the art of ritual as a tool for personal empowerment and collective intention. She began designing jewelry 18 years ago, incorporating the use of ritual pieces/jewelry in her ceremonies. It served as a way for the women to embrace their prayers and intentions through creation of a totem piece they could wear, and adorn their homes and altars.
Clare has been involved with the Women's Spirituality Movement for over 30 years. She began organizing women's retreats and ceremonies in 1989. Her award-winning jewelry collection, Clare Ullman Design, was created in 1996. It emerged from her use of extraordinary materials, many collected from her world travels, and from inspiration from her spiritual roots in Far Eastern and Western cultures. Her work is in galleries in the United States and in private collections throughout the United States, Europe, and Latin America. Clare Ullman lives and works in Berkeley, California. She just returned from Bali where she was working on her jewelry designs and also leading a group of women, touring the temples, and engaging in the spiritual culture of the Balinese.