The Dynamic Vitality Method blends sports science, body mindfulness and qigong practices to provide foundational skills for vibrant aging, self-healing, and injury prevention. In every class of Dynamic Walking, Swimming and Tai Chi & Qigong, participants discover their energetic patterns, train to transform them, and learn practices to take home. Each session presents basic principles plus builds on prior learnings. Classes can be taken separately or paired for greater synergy.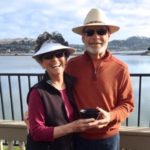 Suki Munsell, Ph.D., RSMT, RSME Dr. Suki has taught dance, fitness and biomechanics to students of all ages for more than 40 years, beginning in 1975 under the guidance of post-modern dance pioneer Anna Halprin.
A Registered Somatic Movement Therapist and Educator, Suki earned her doctorate in Movement Arts with a dissertation on Body Transformation, a life-long research pursuit. Thousands of students worldwide move with greater efficiency and ease using her Dynamic Walking℠ program, featured in Prevention Magazine and Prevention's Complete Book of Walking. Her current book in progress is Lifelong Legs: Your Guide to Walking Transformation.
Russell Munsell Russell's four-decade professional career is focused on teaching clients to maximize their potential. At Humboldt State University he created and delivered stress management, accelerated learning and performance optimization programs which he also taught for corporations, government and abroad. Russell trains clients to make smarter choices in health promotion and lifestyle management. He has been coaching swimmers for 56 years, and won gold in the Amateur Athletic Union national 4-mile at age 43. He began practicing Asian movement arts in 1968 and is a certified Integral Qigong and Tai Chi Teacher.