Elephants in Tanzania. Let's Keep Them Wild.
Ramona Mays presents a 45-minute personal observational footage of elephants in Tanzania and discusses how critical they are to the ecosystem, why we need to protect them and how. Includes videos from Tarangire National Park and Ngorongoro Crater. She showed this footage to the graduate department at UC Berkeley in the Environmental Crime graduate department as well the Lucas Film Premiere theater in SF before the screening of The Ivory Game in March 2017. The videos are up close and personal as she scoured the bush with her partner Tom Lithgow, who has an ecotourism Safari group and been involved in conservation for over 30 years in Africa.
Starting an NGO: Staying calm in a troubling world and taking action without anger using meditation and spiritual practice.
Evolution vs Extinction, where we are headed (includes an Earth Day 10 min guided meditation)
Elephants in Tanzania – The Wayne
Presentation focused on "The Wayne" digital virtual Museum and how it is evolving into manifestation. Personal stories about elephant interaction including one of Wayne Lotter and the elephant extinction crisis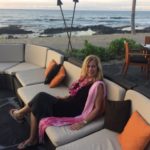 Ramona Mays has worked with endangered species for a decade. She is the Founder of Operation Diana, Operationdiana.org, a conservation NGO with partnerships in Tanzania that are trying to save elephants in Africa from rampant poaching which is leading to extinction of this iconic species. Ramona has worked with the ministry of Tarangire National Park to set up a drone surveillance program with Bathawk Recon, (UAV program) and ESO (elephant survival organization). She sponsored a screening of The Ivory Game at Premiere Theater Lucasfilm in San Francisco, March 2017. She is launching a digital virtual museum, The Wayne, using cutting edge technology, a new kind of conservation to turn the situation around for elephants and keep them on the planet. She is the executive producer of Souls of the Vermillion Sea, a documentary of the vaquita extinction currently taking place. She has worked in stranding release and rescue for The Marine Mammal Center in Sausalito where she has lived the past nine years. She has worked in leadership in the corporate world for 15 years, as an art broker for 10 years and as a conservationist for 12 years. Ramona is a mother of a 25-year old who wants to ensure that elephants remain in the wilds of Africa for her yet to be born grandchildren and future generations.