A Life in the Arts: Slide presentation and talk
Join award-winning artist, international teacher, and author Erin Lee Gafill for a visual journey through her life in the arts. Erin's slideshow presentation showcases colorful oil paintings inspired by the mystical beauty of Big Sur on California's central coast, along with photographs of the sources of her inspiration – the rugged mountains and luminous sky and sea of her childhood home at Nepenthe. Enjoy her personal stories of the bohemian artists, poets, actors and celebrities who have flocked to Big Sur over the years along with tales of her travels with her husband photographer Tom Birmingham teaching art to children and adults across the United States of America, Italy, Japan, and here at The Ranch. As Erin says, "I've never met a student who wasn't gifted AND talented." This inspirational presentation will send you off to bed dreaming in full color!
Workshops: Watercolor and Torn Paper Collage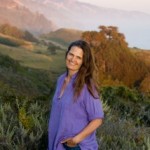 Erin Lee Gafill is a fifth generation California artist from Big Sur, California. She is the founder of the Big Sur Arts Initiative, a nonprofit arts education organization serving children and families. Since 1985 Erin has been designing arts programs for children and adults to support their innate creativity while developing their visual and artistic skills. In 2001 she was the first artist in residence of the Hamada Children's International Art Museum, Hamada, Japan, and has since taught her signature Passion of Painting workshops in schools, museums, ateliers, Boys and Girls Clubs and community centers throughout the United States, in Italy, and Mexico. A fine artist represented nationally, and collected internationally, she is a founding member of the Monterey Bay Plein Air Painters Association, on the creative arts faculty of Esalen Institute, and a member of the Carmel Art Association. In 2009 Erin and her husband photographer Tom Birmingham were honored by the United States Congress and named Champions of the Arts by the Arts Council for Monterey County (California) for their work.