We set the stage for this week's concerts with a series of interviews – public conversations that will help you get to know the performers.
The series begins Saturday night when music critic Rich Scheinin sits down with clarinetist and artistic director Julian Milkis. They will discuss some of the particulars of this week's inaugural classical music festival: how it came to be, and how Milkis arranged to bring five busy virtuosi from around the globe – from Russia, Switzerland, the United States and Canada – to Rancho La Puerta.
Saturday's conversation will also chart the trajectory of the week's performances, which will include an exciting array of music — from J.S. Bach to Benny Goodman, who was Milkis's teacher in New York City in the 1980s. Be prepared to hear stories about Goodman, and about the marvelous music that you will hear throughout the week.
Sunday through Thursday, the interview series will continue as Rich sits down each afternoon with one or more of the musicians: pianists Polina Osetinskaya and Konstantin Lifschitz, violinist Mikhail Kopelman, cellist Alexander Rudin; and Julian, once again. These world-class players will reflect on the pieces they'll be performing – opening new windows on the music for you, the listener.
You will also hear stories about what makes them tick: where they grew up, how they caught the music bug, and what they enjoy doing when they're not performing. You will get to know the people behind the music.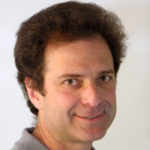 Richard Scheinin is an award-winning reporter with more than 30 years-experience at daily newspapers across the country. He has written for GQ, Rolling Stone and other national magazines and is the author of Field of Screams: The Dark Underside of America's National Pastime (W.W. Norton), a critically acclaimed, revisionist history of baseball. During his 20-plus years at the San Jose Mercury News, his work has been submitted for Pulitzer Prizes for religion and ethics reporting and for writing on classical music and jazz. He also shared in the Pulitzer Prize awarded to the Mercury News staff for coverage of the Loma Prieta earthquake. For more than a decade, he was the classical music and jazz writer for the Mercury News, where he now covers Silicon Valley housing trends and Bay Area real estate. Over the years, he has interviewed and profiled hundreds of musicians, from Ike Turner to Michael Tilson Thomas, Wynton Marsalis and Elvis Costello. Rich lives in Santa Cruz, California with his wife, Sara Solovitch, also a journalist and author.