Julian Milkis
Clarinetist & Artistic Director (Canada)
Polina Osetinskaya, Pianist (Russia)
Konstantin Lifschitz, Pianist (Switzerland)
Mikhail Kopelman, Violinist (USA)
Alexander Rudin, Cellist (Russia)
Touring arrangements by:
World Touring, USA
Join us for Rancho La Puerta's Inaugural Music Festival with our guest artists coming together for a series of five nights of great performances. A beautiful way to end your workout day and fill your soul.
Wall to Wall Bach — An all J.S. Bach program, with M. Kopelman, A. Rudin, K. Lifschitz
Passion, Poetry, and Fame — Beethoven and Schubert Trios, with M. Kopelman, J. Milkis, A. Rudin, P. Osetinskaya, K. Lifschitz
Maestro of Silence and Beauty — the Genius of Giya Kancheli — Miniatures for Clarinet and Piano, with J. Milkis and Polina Osetinskaya
Remembering Benny Goodman — Music of F. Poulenc, A. Zfasman, D. Milhaud, G. Gershwin, B. Bartok, with J. Milkis, M. Kopelman, P. Osetinskaya, K. Lifschitz
Closing Concert — Music of Schubert, Shor, Mendelssohn, Piazzolla, Gershwin, Rachmaninov, with J. Milkis, A. Rudin, M. Kopelman, P. Osetinskaya, K. Lifschitz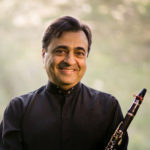 Julian Milkis, Clarinetist & Artistic Director
In a world, where the word "cross-over artist" is thrown around without much meaning, clarinetist Julian Milkis stands out as a true testament to this description as one of the most exciting and versatile artists performing today, as well as one of the leading practitioners of his instrument. One of today's leading clarinetists, and the only student of clarinet icon Benny Goodman, Juilliard trained artist Julian Milkis has garnered an international reputation as a soloist, chamber musician, recitalist, and jazz clarinetist.
Mr. Milkis has appeared on the principal stages of virtually every continent, including the Far East, Europe and the Americas, performing at such prominent stages as New York's Carnegie Hall and Lincoln Center, Salle Pleyel and Salle Gaveau in Paris, Great Halls of the Moscow Conservatory and the St. Petersburg Philharmonic, Roy Thomson Hall and Weston Recital Hall in Toronto, National Concert Hall in Taipei, and many others.
His numerous solo appearances include the Toronto Symphony, State Symphony Orchestra of Russia, St. Petersburg Philharmonic, Novosibirsk Philharmonic, Moscow State Symphony Orchestra, Hamburg Mozarteum, Edmonton Symphony, L'Orchestre Nationale de Lyon, L'Orchestre Symphonique Française, CBC Vancouver Orchestra, Hermitage Chamber Orchestra and Musica Viva, to name a few; performing under the batons of such distinguished conductors as Gennady Rozhdestvensky, Misha Katz, Mark Gorenstein, as well as Hugh Wolff, Mario Bernardi, Victor Feldbril, Uri Meyer, Nurhan Arman, Eric Bergel, Arnold Katz, Alexander Chernushenko, Valery Afanasiev, Alexander Rudin, and Hobart Earle.
Aside from being an established soloist, Julian Milkis is a sought after chamber musician, having collaborated with some of today's leading artists, including Valery Afanasiev, Yuri Bashmet, Gerard Causse, Alexander Kniazev, Misha Maisky, Alexander Rudin, the Borodin String Quartet, St. Lawrence String Quartet, St. Petersburg String Quartet, Cuarteto Latinoamericano, St. Peter's Trio, and others.
Julian Milkis performs exclusively on Yamaha Clarinets and Rico reeds.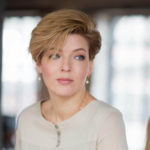 Polina Osetinskaya, Pianist
Polina Osetinskaya began to perform at the age of five. At the age of seven she entered the Central School of Music of the Moscow Conservatoire. She gave her first concert at the age of six at the Great Hall of the Vilnius Conservatoire in Lithuania. Together with her father who accepted the role of manager, the young Polina began to undertake frequent tours throughout the former USSR to packed halls and ovations. When she was 13, she left home and went to study in Saint Petersburg under famous Professor Marina Wolf. Polina began to tour once again while still a student at the St. Petersburg Conservatoire. She subsequently completed a postgraduate course at the Moscow Conservatoire under Professor Vera Gornostayeva.
Polina Osetinskaya has appeared with the Tokyo Philharmonic Orchestra, MusicaAeterna, Europeen Simfonietta, Berlin Chamber Orchestra, St. Petersburg Philharmonic, State Academic Moscow Symphony Orchestra, Moscow Virtuosi and the New Russia orchestra among other ensembles. She has collaborated with such distinguished conductors as Teodor Currentzis, Tugan Sohiev, Vassily Sinaisky, Alexander Sladkovsky, Andrei Boreiko, Gerd Albrecht, Yan Pascal Tortelier and Laurent Petitegerard. Polina Osetinskaya has performed at the Wallonie Festival in Brussels, the Dyagilev Festival, the Mainly Mozart festival, the Stars of the White Nights, Faces of Modern Piano, Mariinsky theater festivals, and the December Nights Festival among numerous others. She plays chamber music as well, with such artists as Maxim Vengerov, Julian Milkis, Alexander Knyazev, Alina Ibragimova, Anton Batagov and Alexey Goribol.
Ms. Osetinskaya is the recipient of the very prestigious award, the Triumph Prize in Russia. In 2008 she wrote her autobiography, Farewell, Sadness, which became a bestseller. She generally creates unusual and frequently paradoxical solo programs, including works by contemporary composers, frequently juxtaposing them with traditional classical works.
Polina Osetinskaya collaborates with many recording companies including Quartz, Naxos, Sony Music, Bel Air and Melodiya.
Konstantin Lifschitz, Pianist
Konstantin Lifschitz was born in Kharkov in 1976. He was five year old when he attended the Gnessin Special School of Music in Moscow, where he took lessons with Tatjana Zelikman. Later, his studies continued with Alfred Brendel, Leon Fleisher, and Charles Rosen.
Since his debut in Moscow, he performed with the major orchestras of the world, such as the New York Philharmonic, the Chicago Symphony Orchestra, the London Symphony Orchestra, under such conductors as Mstislav Rostropovich, Sir Neville Marriner, Bernard Haitnik, Sir Roger Norrington, Sitkovetsky, Michail Jurowski, Marek Janowski, Andrey Boreyko, Vladimir Spivakov, Yuri Temirkanov and Alexander Rudin. Solo engagements lead him to the major international concert venues and festivals.
Konstantin Lifschitz has collaborated with such chamber musicians as Patricia Kopatchinskaja, Gidon Kremer, Maxim Vengerov, Leila Josefowicz, Misha Maisky, Mstislav Rostropovich, Lynn Harrell, Carolin Widmann, Natalia Gutman, Jörg Widmann, Sol Gabetta, Vadim Repin, Eugene Ugorski, Alexander Rudin, Dmitri Sitkovetsky, and others.
In January 2014, Mr. Lifschitz appeared on Warner Classics' complete recording of the Beethoven violin sonatas with the Berlin Philharmonic concertmaster, Daishin Kashimoto.
Konstantin Lifschitz is increasingly as a conductor in appearance and works with the Philharmonic Chamber Orchestra of Wernigerode, the St. Christopher Chamber Orchestra Vilnius, the Musica Viva Moscow, Lux Aeterna and the Gabrieli Choir Budapest, the Moscow Virtuosi, the Solisti di Napoli (Naples), the Dalarna Sinfonietta Falun and the chamber orchestra Arpeggione (Hohenems). In February 2015 he presented with the Century Orchestra Osaka a pure Mozart program in the Izumi Hall Osaka.
Konstantin Lifschitz is an honorary member of the Royal Academy of Music in London. He also has his own class at the Musikhochschule Luzern in Switzerland.
In 2015, Konstantin Lifschitz presented his new recording of the Goldberg Variations. With his sensational recording in 1996 nominated for a Grammy, he already lined up his ranks among the significant pianists of our time.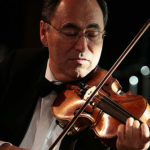 Mikhail Kopelman, Violinist
Mikhail Kopelman graduated from the Moscow Conservatory where he studied with Maya Glezarova and Yuri Yankelevich. In 1973, he won a top prize in the Jacques Thibaud International Competition in Paris.
A former member of the Bolshoi Theatre Orchestra and concertmaster of the Moscow Philharmonic Orchestra, Kopelman was appointed first violin of the world renowned Borodin String Quartet in 1976 and played with the ensemble for two decades. As a member of the Borodin Quartet, he has been awarded the state prize of the U.S.S.R., and he has been named People's Artist of the Russian Federation.
From 1980-1993, Kopelman was on the faculty of the Moscow Conservatory teaching both solo violin and string quartet. He has given master classes at the Guildhall School of Music in London, the Britten-Pears School in Aldeburgh, UK, in Tour (France), Rome, Florence, Turku (Finland), Stockholm, the Hochschule in Hamburg, and the Hochschule in Vienna.
Since 1993, Kopelman and his family have lived in the United States. In 1995, he received the Royal Philharmonic Society Award and the Concertgebouw Silver Medal of Honor. He was first violinist for the Tokyo String Quartet from 1996-2002. From 1996-2002, he was also professor at the Yale School of Music, coaching chamber music.
For over 15 years, he has closely associated with Sviatoslav Richter in numerous performances and recordings. He has also collaborated with Mstislav Rostropovich, Gideon Kremer, Natalia Gutman, Elisabeth Leonskaja, Alicia de Larrocha, Christoph Eschenbach, Yuri Bashmet, Victor Tretyakov, Eliso Virsaladze, Peter Donohoe, Boris Berman, Julian Milkis, Emanuel Ax, and others.
Kopelman has also served as a jury member for several international competitions. These have included the Evian, ARD Munich, and Beijing String Quartet competitions, as well as the Indianapolis and Queen Elisabeth International Violin competitions.
In 2002, with the purpose of continuing the rich traditions of the Russian School of Quartet Playing, he founded the Kopelman Quartet together with some of his contemporaries from the Moscow Conservatory.
Mikhail Kopelman has been professor of violin at the Eastman School of Music since 2002. He has made numerous recordings for the Melodia, EMI, Virgin Classics, Teldec, Philips, Nimbus, and Wigmore Live labels.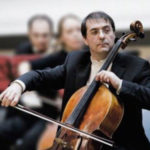 Alexander Rudin, Cellist
Today, as a cellist, Alexander Rudin is undoubtedly one of the leading figures of the Russian school of musical interpretation. His artistry is marked by a uniquely natural and fascinating manner of playing. Since 1988, in addition to his career as a soloist, Rudin has been the artistic director of the Musica Viva chamber orchestra in Moscow. And, for the past ten years, he has been the artistic director of the International Music Festival "Dedication," held annually in Moscow, Russia.
Alexander Rudin's artistic credo is based upon a careful and sensitive relationship to the musical text. Although trained as a musician in the traditional academic manner, Alexander Rudin has found himself attracted to the authentic performance of early music, achieving over time a natural synthesis of the traditional and the authentic. In his concert appearances, Rudin performs on both a modern cello and a Viola da Gamba, playing music of the Romantic era in its traditional way — the "historically correct" manner of performance to works of the Baroque and Classical eras.
Rudin gives great attention to the interpretation of contemporary music and has participated in the world and Russian premieres of works by Valentin Silvestrov, Vyacheslav Artyomov, Andrei Golovin, Edison Denisov, Arvo Part and Aulis Sallinen.
As a professor of the Moscow Conservatory, Rudin has chosen to teach chamber music, rather than solo cello, believing that in this sphere he can impart more of his knowledge to his students. Rudin also gives numerous master classes in various parts of the world and collaborates as a conductor with student orchestras.
Alexander Rudin has recorded numerous compact discs for the Russian Season, Olympia, Hyperion, Tudor, Melodia, and Fuga Libera labels.