Sing-along with Laura
A light-hearted class for singers and non-singers! Laura provides gentle guidance and accompaniment from the piano as participants choose selections from her song books. Repertoire includes folk songs, standards, Broadway selections, and popular songs.
Across the Borders
Laura Dean presents Across the Borders, and evening of dreamy solo piano music featuring music form Cuba, Mexico, and America. Laura peppers her program with engaging stories about the composers and the music. Repertoire includes selections from Cuban composers Ernesto Lecuona and Ignacio Cervantes; Mexico's beloved, Manuel M. Ponce; and American composers, Amy Beach, Stephen Foster and Roy Harris.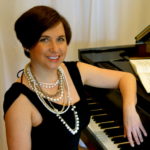 Laura Dean's music career spans over twenty years and includes venues in the United States, Europe, and Mexico. She lives in Seattle where she performs, teaches, records, and collaborates on a variety of music projects including private and public concerts, school/community residencies, and music education workshops. Laura thrives on travel opportunities that allow her to perform, teach, collaborate, and explore local culture. Her travels include journeys to France, Mexico, Montana, Oregon, Alaska, and most recently, Cuba. On her cultural music journeys, she collects stories, photographs, and inspiration for her solo programs and educational residencies.
Please visit: lauramusic.biz for more information.