A Night of San Francisco Cabaret!
A trio of performers from the JetBlacq band in the San Francisco bay area will perform a one hour elegant evening program of sophisticated American songbook favorites with vocalists, Rebecca and Frank Faiola, accompanied by Brian Cooke on piano.
Nightclub Singing Class:  Two classes
Day One: Includes "how to" sing, vocal warm-ups and exercises, song choices to practice, instruction and coaching with Brian on piano.
Day Two:  Microphone techniques, fine tuning singing of song selected and performance at the end of class with critique and positive coaching.  We provide class handouts that will cover vocal techniques, basic anatomy of singing, warm ups and study to do at home.
Karaoke Night at the Ranch!
Rebecca and Frank will MC a fun night of Karaoke singing!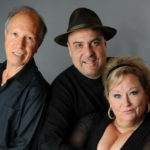 The JetBlacq trio is a New York supper club style jazz trio with a sassy Vegas funny bone!   Direct from the San Francisco bay area, JetBlacq performs at local nightclubs, private parties and events. Vocalists Rebecca and Frank Faiola, delight their audiences in funny marital banter and amazing song stylings from the popuar American songbook.  Rebecca has vast experience on the cabaret scene in San Francisco as well as appearing on stage in musical theatre productions and acting in film and commercials.  Frank Faiola is an amazing vocalist and talented saxophonist.  Brian Cooke is an accomplished pianist and arranger with experience playing for some of the finest vocalists including Chet Baker.