Sensuality and Sexuality: Enhancing Intimacy
Beverly Whipple, who has been researching and writing about sexuality for over forty years, presents a program that will help people to learn more about themselves as sensual and sexual beings. They will learn about the variety of ways men and women are capable of having sensual and sexual pleasure and response.
Beyond the G-spot: Research Concerning Women's Sexual Responses
Dr. Whipple's research about female sexuality (the G-spot, imagery orgasm, etc.) male and female multiple orgasms and the enhancement of sexual pleasure will be detailed in this program, which is designed for both a male and female audience.
Male and Female Midlife Sexual Changes
The normal changes that occur in men and women during mid-life will be detailed, showing similarities and differences. Hormonal changes in women and the sexual signs and symptoms produced at mid-life in men, will be presented. Alternative and traditional approaches will be offered.
Women's Health in the 21st Century
Beverly Whipple will speak about the major women's health issues, the emphasis being on feeling good about being a woman and understanding women's health in the 21st century. Men who live with women will find this program helpful to them as well.
Beverly Whippl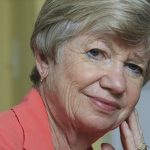 e, Ph.D., RN, FAAN, a certified sexuality educator, sexuality counselor, and sex researcher, is the co-author of the international best-seller, The G Spot and Other Discoveries about Human Sexuality, which has been translated into 22 languages and was re-published as a Classic 23 years later in 2005. Her other co-authored books are: Safe Encounters: How Women Can Say Yes to Pleasure and No to Unsafe Sex; Smart Women, Strong Bones; Outwitting Osteoporosis; The Science of Orgasm (2006), published in English, Spanish, Dutch, Chinese and Japanese; and The Orgasm Answer Guide (2010) published in English, Spanish, German and Dutch. Dr. Whipple has appeared on over 300 radio and TV programs and has been featured in hundreds of magazines, including being named in 2013, One of the 10 Sexual Revolutionaries You Should Know by Cosmopolitan magazine. She has delivered over 800 talks and keynote speeches, published over 200 research articles and book chapters. She is the recipient of over 115 awards. On October 18, 2013 was the inauguration of a scientific research center named after Dr. Whipple, "El Centro de Investigación en Sexología: Dr. Beverly Whipple" in Puebla, Mexico. She is also a Fellow of the Society for the Scientific Study of Sexuality and a Fellow in the American Academy of Nursing. For their 50th anniversary, the New Scientist named her One of the 50 Most Influential Scientists in the World (2006). Dr. Whipple is a Professor Emerita at Rutgers University of NJ, a member of a number of Honor Societies, received the Alumni Achievement Award in 1983, and was named An Alumni Fellow in 2007 by Wagner College. Dr. Whipple was the President of AASECT (1998-2000), was the Vice President of the World Association for Sexology (2001-2005), the Secretary General/Treasurer of the World Association for Sexual Health (2005-2009), was on the Board of the International Society for the Study of Women's Sexual Health (2002-2004), and was the President of SSSS (2002-2003). She is an Honorary Member of the Board of the Foundation for the Scientific Study of Sexuality (FSSS).