Rancho La Puerta's enriching, memorable SPIRIT WEEKS are an expansion of the Ranch's Inner Journey Program, started by Phyllis in January 1987, and Healing the Spirit Weeks from 2002 – 2005.
While the classes are progressive, each day will be valuable as an experience in itself and stand alone from the others. So feel free to come to any or all of the sessions. However it would be most valuable if you consider the daily 50 minute mindfulness sessions Sunday through Friday as a commitment to allow us to go deeper into spiritual practices and to create a group ethos and a shared sense of evolution to create your own authentic "Inner Journey".
All Spirit weeks are coordinated by Ranch yoga instructor Phyllis Pilgrim and this week is shared in collaboration with long term meditator and teacher Elana Rosenbaum. All classes are dedicated to inspiring your mind, body and spirit toward a greater understanding and practice of spiritual disciplines and learning how to weave them into your daily life.
Yoga Fundamentals
S, S, M, T, W, Th & F, 10:00am, 45 min, with Phyllis Pilgrim
Mindful Meditations
S, S, M, T, W, Th & F, 4:00pm, 50 min, with Elana Rosenbaum Phyllis Pilgrim
Phyllis Pilgrim has been inspired by the teachings of BKS Iyengar, H.H. the Dalai Lama, Thich Nhat Hahn, and Shinzen Young, among others. She explores the nether regions of the world, with a spiritual component to each adventure. Recent journeys include hiking the Inca Trail, visiting Dharamsala to listen to the teachings of the Dalai Lama, and trekking in Tibet, Bhutan and Tasmania. Phyllis will teach the daily 10:00 am Yoga Fundamentals for beginners in addition to co-presenting with Elana in the daily 4 pm Mindfulness Meditation classes. Phyllis is the author of "The Hidden Passport" which tells of her young life in Japanese concentrations camps in Java in WW2. She reveals much about her adult life and philosophy enhanced by her practices in yoga and meditation.
On the web: phyllispilgrim.com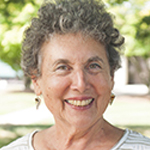 Elana Rosenbaum LICSW, Certified Mindfulness-based Stress Reduction Teacher, psychotherapist and speaker has been a senior instructor at the Center for Mindfulness in Medicine, Health Care and Society at the University of Massachusetts for many years, being among the first teachers in Jon Kabat-Zinn's Mindfulness-Based Stress Reduction program at the Center. She has trained many healthcare professionals and physicians in this program and has been teaching mindfulness-meditation workshops and retreats for cancer patients, caregivers and survivors. She herself is a cancer survivor. Participants in the Ranch's Healing the Spirit Program will benefit from Elana's extensive training, experience and professional work as a mindfulness-based psychotherapist counseling people in all walks of life over the past 35 years. Elana is the author of "Being Well (even when you're sick)" and "Here for Now: Living Well with Cancer through Mindfulness".
On the web elanarosenbaum.com