Join us at the Mercado for an art showing of Victor Hugo Castañeda.
Thursday, March 22, 2018 from 4:00PM to 6:00PM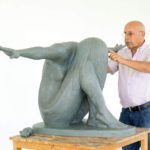 Victor Hugo Castañeda was born in La Palma, Michoacan, Mexico, in 1947. In 1969 he began his career as an artist at the National School of Paint and Sculpture, La Esmeralda at the National Institute of Fine Arts in Mexico City. During his artistic studies he collaborated with world-renowned artists. His inspirations include tropical women; natives of the indomitable sierras; and women from forgotten mesas, paths and springs, clouds that cut the solar planes, and from glimmerings and anxieties. Casteñeda is widely acclaimed for his uncanny artistry as he depicts women in their utmost beauty. The remarkable lifelike semblances of his onyx, marble and bronze sculptures are his testament to their glory.
Join us for appetizers and sangria as we celebrate art at the Ranch!