Develop your visual fitness by exercising and building your creative muscles while greatly enhancing your observational skills. Enjoy unique interactive conversations and fun hands-on experiences that will actively engage you in SEEING MORE to discover deeper insights about art and life at Rancho La Puerta.
Reading Frida Kahlo: How Does Her Art Speak?
Experience a new way of understanding art by unlocking the unique ideas and feelings embedded in a painting by Frida Kahlo (1907-1954), one of the most influential Mexican painters of the 20th century. You will develop and quickly master essential observation skills by carefully reading the Form+Theme+Context (FTC)™ of Frida's artworks with an opportunity to share interpretations of Kahlo's life and art, informed by our direct visual discoveries.
Visual Journaling: Visual Meditation and Hands-On Access to Your Creativity
Engage in visual meditation exercises and use Marking & Mapping™ with a choice of unique art materials to explore life experiences, ideas and feelings as well as to investigate your personal history and revelations. Create a "spiritual" map of your life and/or a Namaste "mini-portrait" of a special person, place, moment in your life that captures special qualities, words, images, and/or events you want to remember with gratitude. In whatever way you visually celebrate your sensations and insights at Rancho La Puerta, you will have a special souvenir of your creativity to take home. No previous art experience needed! Come join in the fun and surprise yourself!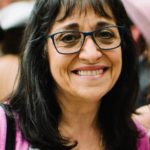 Renee Sandell's art, teaching, and research focus on Visual Fitness for Creativity and Insight™ for everyone–as explored in her recent podcast https://learningchaos1243.audello.com/listen/learning-chaos/
Renee's artistic installations of ink and water-media markings explore the human condition in time, space, and place. Her recent work entitled Silk Meditations reveals positive energies contained in human virtues, reflecting sensory states of consciousness through spiritual expression. Immersed in universal gratitude, these works become meditative mindscapes of visual affirmations needed in our turbulent times.
Believing in the power of art to facilitate human interaction, healing, and transformation, Renee uses Marking & Mapping™ in her Visual Fitness workshops to foster insight and vision for individuals within organizations, health spas, businesses, and museum-based learning programs such as SummerVision DC, which she developed and directs for the National Art Education Association since 2010. Retired as Professor of Art Education at George Mason University, Renee Sandell Ph.D. has published widely and served as a consultant to various school systems, museums, and cultural institutions and organizations. Awarded 2016 Distinguished Lecturer in Art Education and named 2013 NAEA National Art Educator of the Year, Renee has received numerous honors for her leadership and scholarship on her highly accessible, Form+Theme+Context (FTC)™ approach as a balanced way of seeing for meaningful engagement with art and other phenomena while nurturing "forthcoming" vision that creatively leads to deeper insight in learners of all ages!